Jun
14
2022 End of Year Staff Event: NOLYMPICS!
You are invited to join colleagues for a fun-filled afternoon of games and comradery!
This is an open house event, so feel free to arrive when you are able! There will be team activities, so if you'd like to compete for great prizes, form a team, or sign up as an individual, please do.
Hors d'oeuvre will be served (3:00-5:00 p.m.) and we will have NOlympics games (3:30-5:00 p.m.).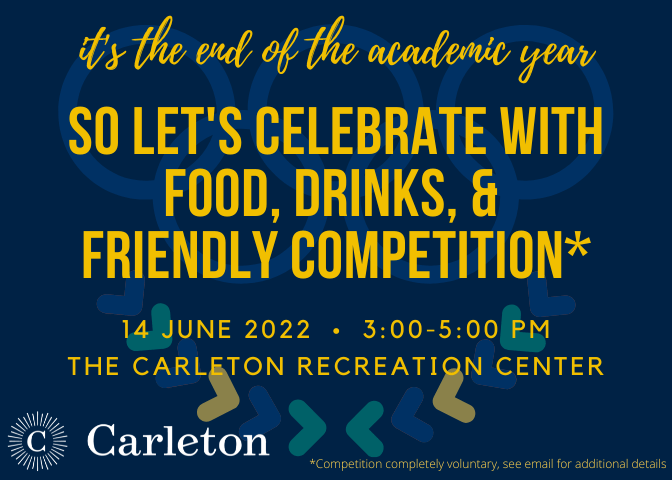 Items to Note:
️ We invite student workers to join in if they wish, so bring them along with you!
️ All games are team-event games.
️ Teams will consist of no more than 7 people – so take the next few weeks to decide what your team may look like
️ If you would rather be placed on a random team to get to know new people – that will be an option too!
️ OF COURSE there will be medals and prizes for the top teams – this is the 2022 NOLYMPICS after all!
If you aren't much of a game person – that's okay! We still want you to come, enjoy the food and drinks -  and much-needed social time with colleagues.
Don't forget to RSVP! The link is above!
From your HR Special Events Team with support from Forum and SAC