Oct
18
German Stammtisch in the libe!
Tue, October 18, 2022 • 4:30pm - 6:30pm (2h) • Third floor of the Library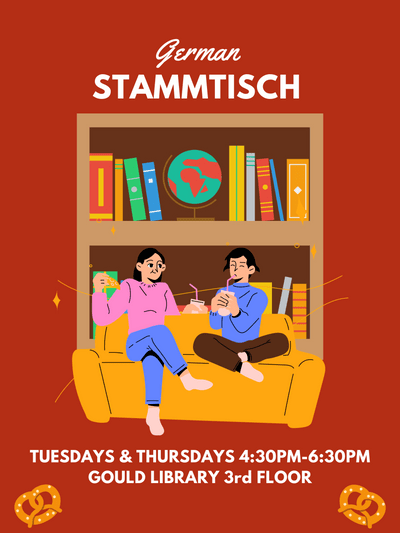 German Stammtisch in the libe! Students of all levels and courses of German are invited to join our Language Associate Anne-Sophie every Tuesday and Thursday from 4:30-6:30pm on the third floor of the library to do German homework, work on assignments together, practice your speaking or your grammar, chat about culture in German-speaking countries, or just hang out with other people interested in German!
from German Department
Event Contact:
aneuner
Repeats weekly on Tuesday: Sep 13, 2022, Sep 20, 2022, Sep 27, 2022, Oct 4, 2022, Oct 11, 2022, Oct 18, 2022, Oct 25, 2022, Nov 1, 2022, Nov 8, 2022, Nov 15, 2022