Basketball, Volleyball, Tennis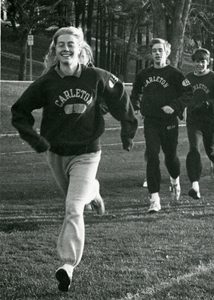 A pioneer for women's sports in the 1970s—an era during which it was uncommon for a woman to be a multi-sport participant at the varsity level—Sylvia Elsen Lovett competed in volleyball, basketball, tennis, track & field, and cross county while at Carleton. Respected by teammates and opponents, Elsen Lovett was a quiet, strong leader who was "ahead of her time" and helped pave the way for today's women athletes at Carleton. Beginning her collegiate career before Title IX was enacted, she trained with the men's cross country team because there was no women's team at that time. Respected as a part of the team, her goal was always improvement, not competition with the men. She particularly appreciated Coach Huyck's support that allowed her to train with the men's team when it didn't conflict with her sports on the "other side" of campus.
Though the Midwest Conference did not have women's cross-country or track teams, she did have several opportunities to race, including an open AAU cross country meet hosted by the University of Minnesota in 1969, and in 1971, a state-wide women's track meet organized by Gustavus Adolphus College where she won both the half-mile and the mile run—the longest distance at that time. In 1971, she was elected vice president of the Women's Recreation Association at Carleton.
Lovett earned her MA in Applied Linguistics (ESL) from Hamline University and is now retired from her professional career teaching English to international students and scholars and their families in Minneapolis, as well as teaching stints in China, Mongolia, and Myanmar. She and her husband, Mike Lovett '70, have four children.