Football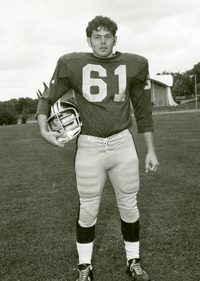 As a three-year starter on the football team's offensive line, Mark Williams may have been undersized physically—he was listed at 5 feet, 10 inches and 183 pounds in the game program—but the size of his heart was on display every day through the grit and enthusiasm he displayed on the field and in the locker room. Many of his peers credit Williams with keeping the Carleton program alive in the early 1970s, when a shallow roster and pressure from some members of the Carleton community threatened to end football at the college. He played an important role in recruiting the classes that restored Carleton's ability to compete in the Midwest Conference.
A team captain in 1972, Williams set the standard for what a true student-athlete should be. He graduated not only summa cum laude but first in his class, earning a 4.00 GPA while majoring in physics. Williams garnered Academic All-MWC honors in 1972 and earned the NCAA Postgraduate Scholarship in 1973. He was one of the early pioneers in the development of the Carleton Rugby Club, and he continued to play the sport while working on a master's degree in theoretical physics from Oxford University in 1975, where was a Rhodes Scholar. Williams earned his master's and doctoral degrees in physics from Stanford University in 1979 and served on Carleton's Board of Trustees from 2009 to 2016.
Williams joined Shell in 1979 as a research physicist; after retiring in 2013 at the head of its worldwide Downstream business, he served as the chairman of Hess Corporation, a large independent oil and gas company. He was past Chairman of the Downstream Committee of the American Petroleum Institute and hosted Carleton's Economics Seminar in London on numerous occasions. An avid amateur astronomer, Mark built a research observatory on his family ranch in Texas that can be operated over the internet. His wife, Candace '73, his children, David '06 and Megan '11, and their spouses, Kristina Kuntz '05 and Paul Ellebrecht '10, are all Carleton alumni.