Volleyball, Basketball, and Softball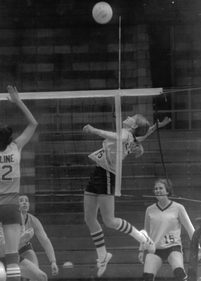 Madeleine McAfee was a three-sport star in the early days of women's intercollegiate athletics as a member of the Carleton volleyball, basketball, and softball teams. Chosen as a captain for all three programs, she earned special team awards with each squad. McAfee helped Carleton to a 41-14-5 (.725) record over her final three seasons on the volleyball court. The squad lived up to its reputation as Carleton's "winningest" fall team in 1976  and finished sixth at the MAIAW state tournament. A year later the team won 17 matches, leading to a fifth-place result at the state tournament.
On the hardwood, McAfee's athleticism allowed her to regularly turn in stellar performances, including a 14-point, 21-rebound effort in a triumph over Macalester as a sophomore in 1976. She corralled 13 rebounds during a 1977 district playoff game against the College of St. Teresa. A regular in the softball team lineup, McAfee started at third base and even served as a backup pitching option during doubleheaders. One of the top sluggers in program history, her talents with the bat were on full display in the 1977 season, when she paced the lineup in virtually every statistical category and headed into the season finale batting .490 with 18 RBIs. In a 13-3 victory during a 1977 MAIAW state tournament win over Concordia, she went 4 for 4, with three home runs and seven RBIs. McAfee was the individual leader in home runs at that tournament, and her home run total was equal to the number of home runs hit by the entire University of Minnesota team.
After earning an MBA from the University of Chicago, McAfee spent three decades in management roles at Motorola, blending technology and business to advance communications technology, especially for public safety first responders. She is extremely proud of her family, including her husband, Clark Adams; their three sons, Andrew, Erik, and Howell; and their four grandchildren.