Basketball, Baseball, Football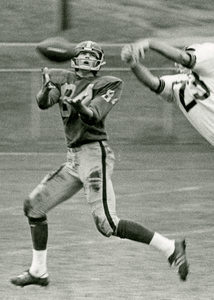 One of Carleton's best three-sport male athletes during the 1970s, Mike Grossman was a record-setting offensive weapon on the football field who showcased his all-around athletic ability by contributing to the success of the Carleton basketball and baseball programs as well. A three-time letter winner on the gridiron—since freshman were not eligible to play varsity at the time—Grossman was an All-Midwest Conference performer at tight end and established new school records at the time for both career receiving yards (1,823) and career touchdown receptions (15). He totaled 78 career receptions, giving him an impressive 23.4 yards per catch. He played in 25 games over the three seasons and totaled 99 receiving yards or more on at least 11 occasions. Grossman was a scoring threat from nearly anywhere on the field as showcased by the fact that at least 9 of his 15 touchdown receptions covered 40 or more yards. He hauled in 21 catches for 530 yards and 5 touchdowns as a sophomore, earning the team's Zell Award for dedication and loyalty to the program. He followed with career bests of 31 catches for 657 yards and 8 touchdowns as a junior, setting a new single-season team record for receiving yards. During his senior campaign, Grossman was credited with 26 catches for 636 yards and two more scores. A starter on both offense and defense, Grossman was also a cornerstone of the Carleton defensive backfield and was on the field for almost every down, including special teams. He helped the football program post three of its top four seasons of the decade. On the hardwood, Grossman was a three-time letter winner and defensive specialist, averaging 6.1 points per game. He also roamed the outfield for the Carleton baseball team.
After majoring in economics at Carleton, Grossman earned his MBA degree from the University of Minnesota and had a successful career in financial services and community development, starting 12 high-growth companies. He lives in Northfield with his wife Sally and has stayed active in the athletic scene during retirement, serving as a both a part-time building supervisor at the Carleton Recreation Center and manager of Northfield's senior amateur baseball team.