Dave Larson '63 • Football, Baseball, Basketball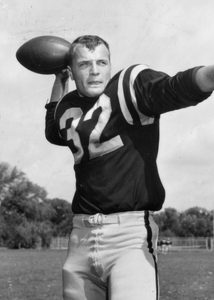 A letterwinner on the gridiron, the hardwood, and the diamond, Dave Larson played in an era when freshmen were not permitted to compete on varsity teams. Still, he could be counted on to do whatever was needed to help Carleton win. On the football field, he rarely came out of the game, seeing time on special teams in addition to being a two-way player. During the 1961 Homecoming football game, Carleton trailed crosstown rival St. Olaf 14-7 when the starting quarterback Phil Bredine was injured. Larson moved from running back to quarterback and guided the maize and blue to a comeback 27-20 victory, a game that was featured in Sports Illustrated. That season, he won the team's C.J. Hunt Award, which is given to the player who shows the most improvement during the current season. Larson also became the first player in recorded team history to receive all-conference recognition for his play on both the offensive and defensive sides of the ball during the same season. That fall, he was an All-Midwest Conference Second Team selection at linebacker and received All-Midwest Conference Honorable Mention for his play at quarterback/halfback. The following year followed a similar script. In the second game of the season, Carleton trailed Cornell 14-0 when Bredine broke his leg. Larson came on in relief and threw a 37-yard touchdown pass on his first play. He later added a 47-yard touchdown with 1:21 left in the game, guiding Carleton to a 15-14 victory. Larson finished the year 52 of 126 for 899 passing yards and nine touchdowns as Carleton's aerial attack led the Midwest Conference. He also served as the team's punter, and at season's end he was an All-Midwest Conference second-team pick for his play on offense. Larson also took home the team's Lippert Award as the player who contributed the most to the Carleton football team. Known for his physical style of defense on the basketball court, Larson averaged 8.8 points and 3.5 rebounds over 53 career games. He averaged 11.2 points as a sophomore and played in every contest during both his junior and senior seasons. He also spent a season as a member of the Carleton baseball team.
A retired Red Angus rancher, Larson was also a US Naval officer (UDT/SEAL) and a Northwestern National Bank portfolio manager. He served as Carleton's Director of Alumni Affairs in the '70s and is part of an extended family that includes more than a dozen Carleton alumni, including brother Bob '56, a member of the 1954 Hall of Fame undefeated football team; brother John '60, football captain; and son Chris '89, letterwinner under coach Sullivan.
Sylvia Elsen Lovett '73 • Basketball, Volleyball, Tennis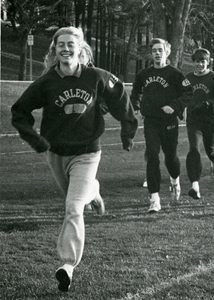 A pioneer for women's sports in the 1970s—an era during which it was uncommon for a woman to be a multi-sport participant at the varsity level—Sylvia Elsen Lovett competed in volleyball, basketball, tennis, track & field, and cross county while at Carleton. Respected by teammates and opponents, Elsen Lovett was a quiet, strong leader who was "ahead of her time" and helped pave the way for today's women athletes at Carleton. Beginning her collegiate career before Title IX was enacted, she trained with the men's cross country team because there was no women's team at that time. Respected as a part of the team, her goal was always improvement, not competition with the men. She particularly appreciated Coach Huyck's support that allowed her to train with the men's team when it didn't conflict with her sports on the "other side" of campus.
Though the Midwest Conference did not have women's cross-country or track teams, she did have several opportunities to race, including an open AAU cross country meet hosted by the University of Minnesota in 1969, and in 1971, a state-wide women's track meet organized by Gustavus Adolphus College where she won both the half-mile and the mile run—the longest distance at that time. In 1971, she was elected vice president of the Women's Recreation Association at Carleton.
Lovett earned her MA in Applied Linguistics (ESL) from Hamline University and is now retired from her professional career teaching English to international students and scholars and their families in Minneapolis, as well as teaching stints in China, Mongolia, and Myanmar. She and her husband, Mike Lovett '70, have four children.
Sandy Dabora '83 • Soccer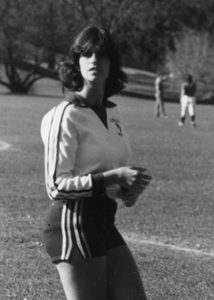 When Sandy Dabora arrived at Carleton in the fall of 1979, the women's soccer club was in just its second year of existence. By the time she graduated, she had not only helped elevate the program to varsity status but had also led the team to back-to-back state tournament titles in 1981 and 1982. An experienced and skillful player in the midfield, she was forced to take on a greater role for the team midway through the 1981 campaign—the program's first at the varsity level—when the head coach abruptly left the squad. Dabora and co-captain Leslie Kingman volunteered to guide the team, which was 3-5-1 at the time. Under their direction, the Knights went 8-1-1 during the remainder of the season and ranked as high as No. 17 in the nation. Dabora and Kingman's overall "team-based" approach to decisions helped Carleton go 5-0-1 during the 1981 state tournament, a postseason run capped by a 5-3 victory in the final match against rival St. Olaf College. As a senior, Dabora was able to hand back coaching duties but still served as a team captain. She helped the 1982 squad go 14-3-0 (.824), which still ranks as the highest single-season winning percentage in team history. The Knights won their first MIAC regular-season title and captured another state title. Dabora won the Special Team Award—equivalent to team MVP—for soccer, an honor handed out by Carleton Intercollegiate Women's Athletic Board. She also played one season for Carleton's varsity women's basketball team.
Dabora, who earned her MD/PhD from the University of Connecticut, is a primary care physician at a community health center in East Boston. She and her husband, David Simon, have two children.
Busola Akinwale '98 • Track & Field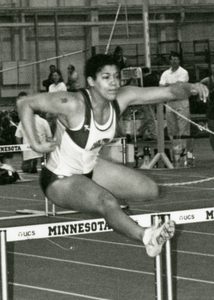 The first Carleton woman to earn All-America recognition in the long jump, Busola Akinwale is the only one to do so on multiple occasions. She earned that distinction three times, becoming the third woman in school history to earn three or more All-America awards for track & field. Akinwale was a five-time individual MIAC Champion, earned All-MIAC recognition nine times, and received all-conference honorable mention an additional 13 times. Demonstrating the extent of her abilities, she took home All-MIAC or All-MIAC Honorable mention in eight different events: long jump, triple jump, 55-meter dash, 55-meter hurdles, 100-meter hurdles, 4×100-meter relay, 4×200-meter relay, and the heptathlon. As a rookie in 1995, Akinwale took second at the conference outdoor championships in the long jump (17' 3.5") and triple jump (35' 10.5"). The following season, she won her first MIAC crown, soaring 17' 9" to win the indoor long jump title and set the then-MIAC Championships record. She was second in the 55-meter hurdles (8.45) at the same meet and during the outdoor season was the runner-up in the long jump (18' 0.5"). As a junior, Akinwale defended her conference indoor title and broke her previous MIAC Championships record in the long jump with a leap of 18' 7.2". She was also the runner up in the 55-meter hurdles. She qualified for the NCAA Indoor Championships for the first time and finished fifth in the long jump at 17' 9", earning her first All-America award. She later captured her first MIAC outdoor crown and tied the meet record for the long jump with a distance of 18' 5.75". At the NCAA Outdoor Championships, Akinwale picked up her second All-America award of the year by placing sixth in the long jump at 17' 11.75". As a senior, she was the 1998 MIAC indoor champion in both the long jump (18' 3.25") and 55-meter hurdles (8.45). At the NCAA Indoor Championships, she placed fourth in the long jump (18' 2.9") to earn her final All-America award. She also qualified in the 55-meter hurdles and had the eighth-fastest time (8.48), but only the top six received All-America status at that time. Upon graduation, Akinwale held Carleton indoor school records for the long jump, triple jump, 55-meter hurdles, and 4×200 relay while owning the outdoor marks in the long jump and triple jump.
Having earned a JD from the University of Minnesota and an MS in library and information science from the University of Illinois Urbana-Champaign, Akinwale now works on legal content and technology products at Thomson Reuters. She lives in the Twin Cities with her daughter, Willa, and son, Ira.

Jason Brown '03 • Swimming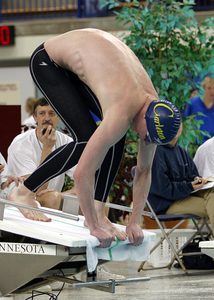 A two-time All-American and the recipient of three All-America Honorable Mentions, Jason Brown was a force to be reckoned with in the pool for the Knights. He was the first person to earn back-to-back MIAC Men's Swimmer of the Year recognition, taking home the honor in 2002 and again in 2003. Brown picked up a staggering 17 All-MIAC honors, including seven conference individual titles. He won the conference crown for the 200-yard freestyle in each of his four seasons swimming for the Knights and earned the MIAC title for the 100-yard freestyle in 2001, 2002, and 2003. His first of three trips to Nationals came in 2001, and in 2002 he earned All-America Honorable Mention after finishing 11th in the 100-yard freestyle and 15th in the 50-yard freestyle. The following year, Brown placed seventh in both events, twice meriting All-America status. He also took 13th in the 50 freestyle that season to pick up All-America Honorable Mention for the third time. When Brown graduated in 2003, he held team records for the 50-, 100-, and 200-yard freestyle events, with his 1:40.60 time for the longest of those distances still the program standard two decades later. His 100 freestyle time of 45.66 still ranks second in team history, while his 50 freestyle time of 20.98 also ranks inside the top 10. A team captain in 2002-03, Brown took home the Carleton Men's Swimming Warnecke Award, which goes to the senior swimmer who made the greatest contribution to the team. While being dominant in the pool, Brown also earned accolades in the classroom. He was named CoSIDA Academic All-District during his junior and senior years and was voted an Academic All-American in 2003. He also earned a prestigious NCAA Postgraduate Scholarship.
Brown and his wife, Liz Sehr Brown '04, have three children.
Erik Klontz '13 • Swimming
One of the top sprinters in the nation, Erik Klontz earned three All-American Awards in addition to twice receiving All-America Honorable Mention. A four-time conference champion, he turned in 15 All-MIAC performances and was selected as the MIAC Men's Swimmer of the Year for 2013. At the 2013 MIAC Championships, he won individual titles in the 50- and 100-yard freestyle events as well as the 200-yard freestyle relay, the Knights' first relay conference title in 25 years. In the process, he broke the MIAC Championship and MIAC overall records in all three events. He successfully defended his MIAC crown in the 50 freestyle, touching the wall at 19.66. That was the third-fastest time in NCAA Division III history at that point. Klontz figured in a total of six All-MIAC swims that year—three individual and three relays—and became the third Knight voted the MIAC Men's Swimmer of the Year. He qualified for Nationals in 2012 and finished eighth in the 50-yard freestyle, earning All-America status. He added All-America Honorable Mention that year after placing 10th in the 100 freestyle. Klontz returned to the NCAA Championships the following year and was the national runner-up in the 50 freestyle. He took seventh in the 100 freestyle to earn his third All-America award in addition to joining with George McAneny, Stephen Grinich, and Mamoru Kanazawa to take home All-America Honorable Mention after the quartet placed 16th in the 200 freestyle relay. Klontz still holds five Carleton team records: 50 freestyle (19.66), 100 freestyle (44.52), 200 free relay (1:21.55), 400 free relay (3:03.47), and 800 free relay (6:52.06), in addition to MIAC overall and MIAC Championships records for the 50 free and 100 free. Not just a star in the pool, he shined in the classroom and was voted to both the CoSIDA Academic All-District and Academic All-America teams in 2012 and 2013, in addition to collecting a CSCAA Scholar All-American Honorable Mention. Klontz was the 2013 recipient of the Warren L. Beson Memorial Award, which is given to a senior male athlete for both athletic and academic excellence.
Klontz, the son of Sarah Ward '82 and Karl Klontz, earned his MD and PhD from the University of Maryland, Baltimore and is currently a fellow in clinical microbiology at Massachusetts General Hospital in Boston.