Nancy (Allen) Foran '71 • Swimming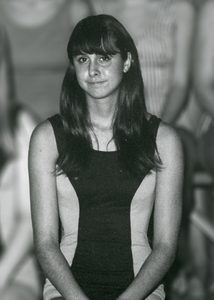 Nancy (Allen) Foran was one of Carleton's top swimmers of her generation and was at the forefront of women's collegiate athletics as her career concluded before Title IX was even enacted. She helped organize the first traveling women's swim team at Carleton and played a big role in the school's performance at the Midwest Association for Intercollegiate Athletics for Women (MAIAW) Swimming & Diving Championships in 1970 and 1971; these events included teams that would later become NCAA Division I and II as well as Division III programs. She helped Carleton finish second both years among the group of schools that would later join the NCAA Division III. She is recognized for establishing nine Carleton or pool records during her career: the 25-, 50-, and 100-yard backstroke; the 25-yard butterfly; the 100-yard freestyle; the 100- and 200-yard freestyle relays; and the 100- and 200-yard medley relays. She received the senior swim team award, organized and was a regular participant in the Women's Recreation Association (WRA) inter-dorm swim meet, and was treasurer of the WRA. In her senior year, she was also a member of the women's tennis team. Nancy was a religion major and was ordained as a pastor in the United Church of Christ in 1975, serving churches throughout Maine until her retirement in 2020. After college, she coached youth soccer and running and co-founded with her husband a competitive youth soccer league in Maine through the American Youth Soccer Organization (AYSO).  She has also participated in more than a dozen 60-mile Breast Cancer 3 Day Walks, raising over $50,000 for the Susan G. Komen Foundation.
Mark Winston '86 • Track & Field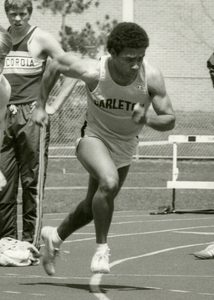 Mark Winston was a five-time qualifier for the NCAA Championships and earned All-America recognition after helping Carleton take fourth place in the 4×100-meter relay at the 1985 national meet. He garnered all-conference status 10 times, including seven titles, and broke six school records. Winston captured his first conference individual crown as a rookie, winning the 400-meter race at the 1983 Midwest Conference Indoor Championships. He also ran a leg on Carleton's victorious 4×200-meter relay that winter. He added three more MWC titles during the outdoor season, prevailing in the 100-meter dash in addition to racing on the winning 4×100 and 4×400-meter relays. That spring was the first of his four consecutive trips to the NCAA Outdoor Championships as part of Carleton's 4×100-meter relay. The 1985 season included five new school records and brought about a Minnesota Intercollegiate Athletic Conference title in the 4×100 relay along with a second-place result in the 200-meter dash. At that year's NCAA Championships, the quartet of John Winter, Loren Henning, Andrew Beaudoin, and Winston garnered All-America status after taking fourth place with a then-school record time of 41.51. Winston's senior year included a similar list of accomplishments, and he received the squad's John Millen Award, which is presented to the athlete "who has contributed the most in the interest of track." Winston secured the MIAC title in the 100 and finished second in the 200. He played a part in breaking a 16-year-old Carleton record in the 4×400. Winston capped his collegiate career by qualifying for the NCAA Championships in both the 100-meter dash and the 4×100 relay.
Marvin Stoltz '91 • Baseball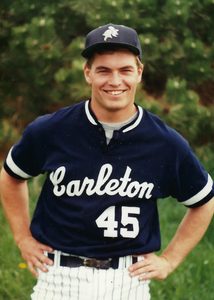 Marvin Stoltz is one of the top hitters in Carleton baseball history. A three-time All-MIAC selection (1989, 1990, and 1991), he received the program's Kelly Award as the team MVP in both 1989 and 1991. A versatile player as a four-year starter, he saw action at right field, shortstop, first base, third base, and pitcher. Stoltz established 13 school records with the bat, and six of those marks still stand 30 years later. He belted 12 home runs as a senior and finished his career with 26 round-trippers. Both of those totals are still tops in recorded team history. His .494 batting average as a sophomore not only set the team single-season record but also ranked sixth in the nation that year. Stoltz still holds Carleton's top mark for slugging percentage in a season (.861 in 1989) and a career (.741) as well as RBI in a season (48 in 1991). He hit over .400 twice and finished with a then school-record .394 career batting average. Upon graduation he also held the program standard for career hits (152), doubles (36), triples (10), RBI (137), and total bases (286). After batting .360 with 21 RBI and 16 stolen bases as a rookie, Stoltz earned his first all-conference award the following year by hitting .494 with 5 homers and 35 RBI. Those numbers helped Carleton post its first winning season since 1964. He paced the squad in home runs (7) and slugging (.688) as a junior in 1990 and concluded his career by helping Carleton capture the 1991 MIAC regular season title as the Knights went on the road to win the last two games at St. Thomas. He shared the 1991 MIAC MVP award with teammate John Nielson as Stoltz batted .402, ranked fifth in NCAA Division III with an .828 slugging percentage, and was among the top performers in the country for home runs and RBI per game. The 1991 squad won 24 games, the most victories in the baseball program's nearly 140-year history. That year's team advanced to the NCAA Division III Regionals for the first time. Stoltz was also was a three-time letter winner on the gridiron, where he saw time at punter, safety, linebacker, defensive end, running back, and tight end.
Josh Schroeder '01 • Baseball, Football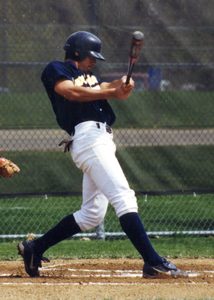 Josh Schroeder is one of a select group of Carleton athletes to be voted to the All-MIAC First Team in two team sports. A four-year letter winner and captain for both the baseball and football programs, he was an all-conference selection on the diamond in 1999 and 2000 and achieved All-MIAC status on the gridiron in 2000 after previously receiving honorable mention as a sophomore and junior. Schroeder led the football team in interceptions each of his four seasons and was tabbed to the USA Football All-America Third Team in 2000, a season that saw him recognized as team MVP and Defensive Player of the Year. Schroeder was among the top tacklers during his time at Carleton and finished his career with 14 interceptions, tied for third in program annals. His first season included two interceptions against Saint John's and a 59-yard fumble return for a touchdown against Augsburg. The next year, he received the team's Matt Zell Award, which honors a sophomore player for dedication and loyalty to the Carleton football program. Schroeder was second on the team with 61 tackles that season and had three interceptions, including a pick-six in the season opener against Northwestern College. He totaled 55 tackles and four interceptions as a junior, then improved both of those figures the following fall with five interceptions and 61 tackles to earn the Lippert Award for Most Outstanding Senior. He was only the second baseball player in program history to be a three-time winner of the team's Kelly Award as team MVP in 1999, 2000, and 2001. A center fielder, Schroeder established then-program records for games played (142), hits (154), walks (63), and stolen bases (65), a mark he still holds two decades later. He owned a career .342 batting average with 33 doubles, a .433 on-base percentage, and a .496 slugging percentage. Defensively, Schroeder had 346 career putouts, most by an outfielder and 7th all time.  His sophomore campaign, a season in which the team exclusively used wood bats, included a game winning home run in extra innings over Hamline. As a junior, he led the team in hitting (.381), runs (29), and slugging (.581). He was 18 for 19 in stolen base attempts that season and received Carleton's Mel Taube Award in 2000, given to a Carleton male athlete that exemplifies the qualities of loyalty, dedication, and achievement. As a senior, he again paced the Knights in batting (.394), hits (43), and doubles (10) to go along with a school-record 21 stolen bases.
Dan Forkrud '06 • Basketball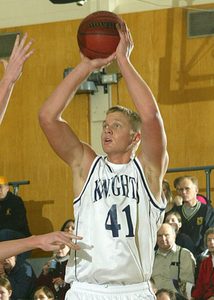 Dan Forkrud is one of the top all-around performers in Carleton men's basketball annals, as he is the first player in recorded team history with at least 1,000 points, 600 rebounds, 200 assists, and 100 steals. A four-year starter and letter winner, he was selected first team All-MIAC for both 2004-05 and 2005-06. Forkrud's status as one of the top players in the country was confirmed when he was one of only six players voted to the National Association of Basketball Coaches' (NABC) All-West Region First Team in 2006. At the time, he was only the fourth Carleton player to take home this NABC honor. That season, Forkrud was also tabbed for the D3hoops.com All-Region Team along with his selection to the MIAC All-Defensive Team. At the time he graduated, Forkrud ranked third in school history with 1,467 career points and ranked fifth and sixth, respectively, with 716 rebounds and 246 assists. He still ranks second with 181 career steals and is now fourth with 93 career blocks. Forkrud made an immediate impact for the Knights as he averaged 10.4 points, 6.1 rebounds, and 2.3 assists per game in 2002-03, leading to his selection to the MIAC's All-First-Year Team. He accounted for 11.7 points, 5.9 rebounds, and 2.6 assists as a sophomore. His first all-conference award came after the 2004-05 campaign, during which he averaged 15.7 points, 7.5 rebounds, 2.3 steals, and 2.0 assists. Forkrud helped Carleton post a 17-game winning streak during the 2005-06 campaign en route to the program's first MIAC regular-season title and its debut at the NCAA Championships. That year, Forkrud averaged 16.6 points, 7.1 rebounds, 2.3 assists, and 1.9 steals. The basketball class of 2006 totaled 69 wins over four seasons, which is still the second-highest total in the program's 110-year history.
Robert Carlton '10 • Soccer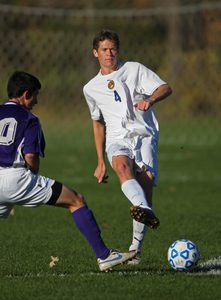 A stalwart central defender, Robert Carlton was the first player in Carleton men's soccer history to be named an All-American by the National Soccer Coaches Association of America (NSCAA), earning that distinction following the 2008 campaign. He followed that up with a second All-America award the next season. He was the first player in program history voted to the NSCAA All-Region team three times (2007, 2008, and 2009), and he also earned All-Region recognition from D3kicks.com in 2009. A two-time all-conference selection, Carlton was voted the 2009 MIAC Player of the Year. He helped the Knights win back-to-back-to-back MIAC regular season crowns in 2007, 2008, and 2009, with Carleton ranking among the country's top 15 programs each year. The program captured the 2008 MIAC Playoffs title, which led to a berth in the NCAA Championships, where Carleton advanced to the "Sweet Sixteen." In 2007, the Knights went undefeated in conference matches and earned the first of their three consecutive MIAC regular-season titles. The following fall, Carlton helped the Knights post a 0.31 goals-against average as they conceded the second-fewest goals among the more than 700 NCAA men's soccer programs from all three divisions. It was more of the same during Carlton's senior season, as he anchored the 2009 defense that allowed only 13 goals all season and ranked fifth in Division III with 13 shutouts in 20 games. All told, the Knights went 57-14-8 overall (.772 winning percentage) during his time at Carleton, including 29-6-2 (.810 winning percentage) in MIAC matches. He was equally successful in the classroom and earned several academic awards, including NSCAA Scholar-Athlete All-American and the prestigious NCAA Postgraduate Scholarship. Carlton was the 2010 recipient of the College's Warren Beson Award, which honors a senior for athletic and academic excellence.
Kelly Lovett '11 • Track & Field, Volleyball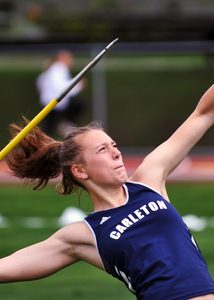 Kelly Lovett was an accomplished athlete in both track & field and volleyball. A three-time All-American in the javelin, she concluded her collegiate career as the 2011 NCAA Champion in the event and became only the fourth Carleton female track & field athlete to win a national outdoor title, and the first to do so since 1999. Lovett still holds the school record for the javelin at 47.36 meters, a mark she achieved on her final collegiate throw. She was the runner up in the javelin (38.95 meters) at the 2008 MIAC Outdoor Track & Field Championships, the first of her three All-MIAC performances in the event. The following spring she placed seventh at the NCAA Championships (41.96 meters) and captured her first All-American award. Lovett took second at the MIAC Championships again in 2010 and returned to Nationals, where she finished in fourth place (44.19 meters). The 2011 spring season saw her take second at the conference meet once again, but she made her third straight appearance at the NCAA Championships and controlled the event from the drop. She popped off a personal-best throw of 46.10 meters on her first attempt and followed with a 47.03-meter effort. Those two throws already ranked as the top two in the competition until she stepped to the line for her final attempt. Lovett unleashed a 47.36-meter toss, capping off the competition—and her career—with a flair. Her final distance (155 feet, 5.75 inches), won the event by more than four meters. She still ranks inside the track & field program's top 10 in the discus (36.05 meters) and shot put (11.47 meters). On the volleyball court, Lovett earned All-MIAC First Team recognition in 2010 and totaled 760 kills, including team-bests of 309 in 2009 and 276 in 2010. She added 502 career digs and 71 aces, including a team-best 37 in 2009. She received the Pat Lamb Award in 2011, given to the top Carleton female athlete who exemplifies academic and athletic excellence. Lovett's work in the classroom resulted in CoSIDA Academic All-District honors for volleyball in 2009 and track & field in 2011. She was the USTFCCCA Division III Field Scholar Athlete of the Year in 2011 and received an NCAA Postgraduate Scholarship.