Tammy Metcalf-Filzen • Women's Basketball Coach 1997-2010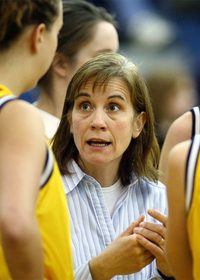 Tammy Metcalf-Filzen is one of the most successful and decorated coaches in any sport over Carleton's 150+ years of existence. After serving as the women's basketball assistant coach from 1992 to 1997, she took over the head coaching position from 1997 to 2010 and amassed a 226–122 record, making her the winningest coach in program history. Carleton women's basketball owned a combined .310 win percentage in the 24 seasons prior to Metcalf-Filzen's arrival, making her school-record .649 win percentage even more impressive. Carleton averaged more than 20 wins per season from 2000 to 2009, including a school-record 25 victories in both 2002–03 and 2003–04, with both squads nationally ranked throughout the year. Under her direction, the Knights were three-time MIAC regular season champions (2003, 2004, and 2005) and five-time playoff champs (2001–04 and 2008). Metcalf-Filzen was the first coach in conference history to lead a team to four consecutive MIAC Playoffs titles in any sport, regardless of gender. She guided her team to four straight trips to the NCAA Tournament, including three consecutive trips to at least the second round. Metcalf-Filzen was honored as both MIAC Coach of the Year and West Region Coach of the Year in 2001, 2003, and 2004. She coached a three-time All-American, 25 First-Team All-MIAC performers, four MIAC Sixth-Player-of-the-Year honorees, 12 MIAC All-Defensive Team selections, and 13 MIAC All-First-Year Team players. She also served as Carleton's head women's soccer coach from 1994 to 1997, guiding that program to double-digit wins in 1995 and 1997. Metcalf-Filzen, who was inducted into the St. Olaf Athletic Hall of Fame in 1999 due to her stellar playing career for the Oles, joins Charles Lunder ('C' Club class of 1990) as the only individuals to be inducted into both the Carleton and St. Olaf Athletic Halls of Fame.
After retiring from Carleton, Metcalf-Filzen was able to spend more time with her husband Dave and their seven children. However, she had some trouble shaking the coaching "bug" and she spent stints helping the basketball coaches at both Northfield High School and Bethlehem Academy. She is now the co-founder and executive director of Whispers of Hope, a non-profit ministry serving women seeking to overcome life's struggles.