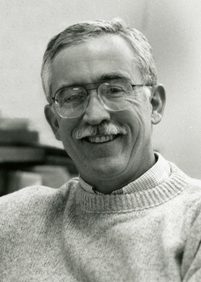 Bob Bonner was at the helm of the men's tennis program through what is arguably the best stretch of seasons in team history, lifting Carleton's status on the national stage. He came to Carleton in 1967 to teach in the history department, where he served until his retirement in 2005, and he also spent time as the college's Dean of Students and the director of summer programs. With the regular men's tennis coach on leave, Bonner stepped in as interim head coach for one season and directed the squad to the 1975 Midwest Conference crown. In 1981 Bonner took over head coaching duties for nine more years. Under his leadership Carleton would claim a runner-up Midwest Conference finish in 1981 and back-to-back titles in 1982 and 1983 before the college moved to the tougher Minnesota Intercollegiate Athletic Conference, where the team was runner-up in 1986 and 1987. Throughout his tenure Bonner had his teams play a consistently challenging schedule, with Carleton facing multiple NCAA Division I and II teams as well as some of the top D-III programs in the country. This rigorous slate of matches helped Bonner's teams regularly rank among the country's best, with Carleton claiming top-15 Intercollegiate Tennis Coaches Association national rankings from 1982 to 1987. He guided Carleton to a team berth at the 1985 NCAA Championships, where the squad lost in the quarterfinals to eventual national runner-up Kalamazoo College but bounced back to defeat Gustavus Adolphus College in the consolation bracket. It would take another 25 years for Carleton to beat the Gusties again. Bonner coached Carleton's first men's tennis players known to have earned All-America status: singles players Dave Treichel (1985 and 1986) and Tom James (1987-1989) as well as the doubles tandem of Treichel and John Flygare (1984 and 1985).
Bonner is the author of William F. Cody's Wyoming Empire (2007), numerous articles on western environmental and cultural history, and a centennial history of his hometown, Powell, Wyoming. The University of Wyoming, his alma mater, conferred an honorary doctorate on Bonner in 2011.
His life in Northfield has been devoted to his family—his wife, Barbara, and their children, Jennifer '89 and Timothy—and to the Laura Baker Services Association. He served on its board for 27 years, 18 of them as vice-president or president, and when he stepped down the board honored him with its first Robert Bonner Distinguished Service Award.