Leon Lunder • Athletic Administrator, Professor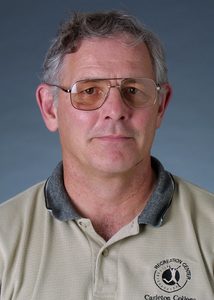 Leon Lunder served in a variety of roles during more than three decades as a member of the Physical Education, Athletics, and Recreation (PEAR) Department. He came to Carleton in 1982 and impacted thousands of student-athletes over the years before retiring in 2014. Lunder led by example in the classroom, on the field, and in the College's administration. His influence, spirit, and leadership left an almost unmatched impact on Carleton athletics as he cared deeply about his student-athletes, his coaches, his support staff, and his faculty colleagues. Lunder began his time at Carleton as an assistant football coach (1982-94) and assistant track & field coach (off and on from 1982-83 through 2013-14). He was head wrestling coach from 1984-90 and served as Carleton's Director of Men's Physical Education from 1984-88. Lunder was named Carleton's first athletics coordinator in 1990 and was promoted to Athletic Director in 1992, serving in that role until the end of the 2009-10 academic year. He was the Chair of the PEAR Department from 1992-2005. Lunder also spent time working as Carleton's athletics trainer, strength and conditioning coach, and professor as he taught numerous physical education activity and coaching classes as well as courses in biochemistry and human physiology for the College's biology department. Lunder chaired Carleton's Student-Athlete Advisory Council (SAAC) and administered Carleton's indoor and outdoor track & field meets. His impact as an athletic administrator was felt throughout campus and across collegiate athletics. He led the efforts to build the Carleton Recreation Center and hired 14 coaches who would go on to earn MIAC Coach of the Year honors and guide their teams to numerous MIAC regular-season and postseason titles. Extremely well respected by his peers, Lunder earned the 2006 Athletics Director of the Year Award for the central region from the National Association of Collegiate Directors of Athletics (NACDA). He served as president of the National Association for Division III Athletic Administrators (NADIIIAA) from 2000-02 in addition to stints on the NCAA Management Council, NCAA Budget Committee, and the Division III Financial Aid Task Force. He was also involved with several national committees and directed multiple NCAA Championships.
Lunder lives in Northfield with his wife Claudia.