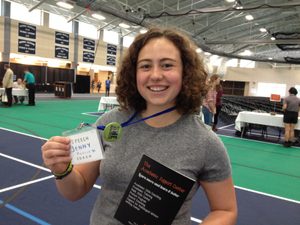 Jenny will coach you remotely, using Zoom! If you'd like a coaching session, just fill out the form below. Jenny will contact you to set up a mutually convenient time to meet over Zoom.
Public speaking and the art of persuasive communication have been passions of Jenny Portis ('20, Political Science, Public Policy) for several years. In high school, Jenny competed with and captained the speech and debate teams, securing one state debate title and becoming a two-time state champion and national quarterfinalist in speech.
Since coming to Carleton, she has acted as an assistant coach for her former debate team, competed for Carleton's Model United Nations team, and uncovered a truly unruly affinity for snickerdoodles. As a veteran speech consultant, Jenny has worked with both novice and more seasoned speakers at all stages of the process of crafting polished presentations. She firmly believes in the power of persuasive speaking and strives to cultivate a friendly, encouraging environment for everyone to hone their speaking skills.
Jenny can help you practice and prepare for:
class presentations
comps talks
participating in class discussions
speech-related events unrelated to coursework
She can work with you on:
tailoring your content for a particular audience
organization
clarity
effectively using PowerPoint, Keynote, etc.
body language and eye contact
persuasive impact