Feb
11
Home ~ Exploring, Mending, Reimagining
Fri, February 11, 2022 - Fri, March 11, 2022 • Hamlin Creative Space, WCC M005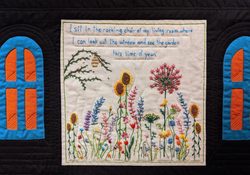 Home ~ Exploring, Mending, Reimagining draws inspiration from audio testimonies recorded in the summer of 2019 by Cecilia Cornejo Sotelo as part of her ongoing, multi-platform project, The Wandering House. A former ice-fishing house turned into a mobile audio-recording studio, The Wandering House offered Northfield residents the opportunity to reflect and record their thoughts on home as well as their hopes for the community.
The current exhibition features the Northfield Community Quilt, which is based on audio testimonies responding to the prompt, 'I Know I'm Home When....' These audio fragments were subsequently embroidered by 60 community members — artists and enthusiasts alike — working in close collaboration with Cecilia in the fall of 2020.
Home ~ Exploring, Mending, Reimagining also features audiovisual work and a recording station where community members can contribute to the next phase of the project, Sonic Landscapes of Southern Minnesota: a sound-mapping website that will function as an acoustic mosaic, an evolving installation in the virtual space, and a catalyst for transformation at a crucial time of social reckoning.
Home ~ Exploring, Mending, Reimagining offers audiences within and beyond Northfield the possibility to explore, mend, and reimagine our relationship to home in order to envision and create communities where all of us are heard, seen, and valued.
Hamlin Creative Space Hours:
Mon-Wed: 11am - 6pm
Thu-Fri: 11am - 9pm
Sat-Sun: Noon-4pm