Oct
6
Mystical Voices of Medieval Germany: Hildegard von Bingen (1098-1179) – A Concert by Sequentia
Fri, October 6, 2023 • 7:30pm - 9:00pm (1h 30m) • Kracum Performance Hall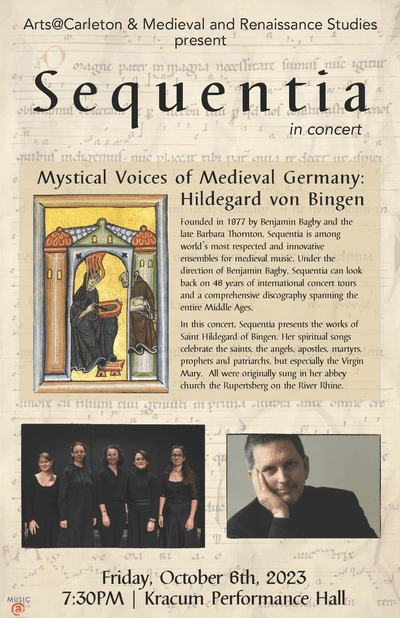 In this public concert, the early music ensemble Sequentia, under the direction of Benjamin Bagby, presents Hildegard of Bingen's spiritual songs celebrating the saints, the angels, apostles, martyrs, prophets and patriarchs, but most essentially the Virgin Mary, all originally sung in her abbey church on the River Rhine, the Rupertsberg.
We also perform pieces not ascribed to Hildegard, but which come from her traditions of nearby 12th-century German convents, including a surprising later resonance from a 13th-century Bavarian cloister, where echoes of Hildegard's musical language can still be heard giving voice to timeless texts of human desire from the Songs of Songs, with its powerful imagery so essential in the spiritual universe of contemplative monastic life.
As a special offering, we present the climactic scene from Hildegard's rarely-heard music-drama, Ordo Virtutum, in which the Devil tries to wrest an errant soul from the protection of the embodied virtues.