Nov
6
Choir Concert: Changing Tides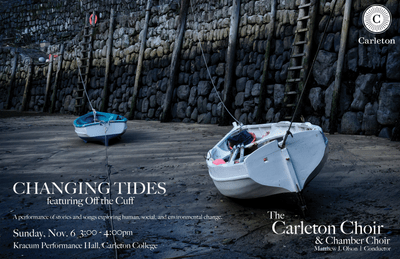 Changing Tides
featuring The Carleton Choir, Chamber Choir, & Off the Cuff
What a paradox tides are – to be ever-changing, yet defined by perpetual repetition.
Whether literally or metaphorically, through cosmic force or poetic waxing, tides hold a unique allegorical potential to explore our emotional, environmental, and social fabrics. Today's choral program interweaves stories and songs that ponder these fabrics and the tensions that surround progress.  (or lack thereof)
The concert includes works by: Margaret Bonds, Fauré, Timothy Takach, Saro Lynch, Mozart, Natalia Tsupryk, Whitacre, Paulus, and a traditional Haitian Vodou song.
To view virtually, please use this link to access the live stream: https://www.carleton.edu/music/events/concert-stream/
To view the program, please click here: Fall 2022 Choir Concert Program
from Music Department