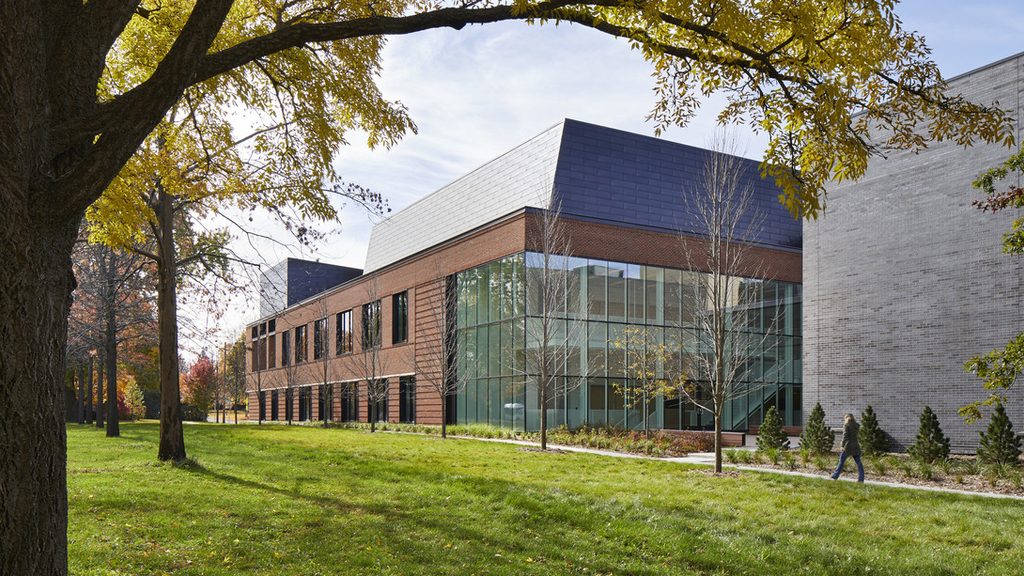 Carleton's vision for the Weitz Center is an interdisciplinary workshop that transforms how we teach and learn:
An innovative facility that fosters creative collaboration, reaching across all academic disciplines at Carleton — and beyond campus, into the larger academic and arts communities.
Centralized support for multimedia and interactive technologies. From video and sound editing facilities to digital libraries and computer labs, the Weitz Center brings together both the equipment and the expertise that student and faculty need to make the most of new technology and media.
Uniquely flexible multipurpose spaces for teaching, performing, working and creating. Theater seating can be reconfigured to accommodate a traditional proscenium, a thrust stage, or whatever a production requires; the dance studio can do double duty as performance space; the art museum facilitates teaching as well as exhibits; "white space" areas can accommodate anything from a visiting lecturer to a robotics class.
New and unexpected combinations of faculty and staff under the same roof, some permanently, others for a residency period. Art meets physics; music meets math; traditional academic boundaries are set aside to create interdisciplinary partnerships in teaching and research.
Community spaces encourage both impromptu and planned gatherings of students, faculty, neighbors and visitors.