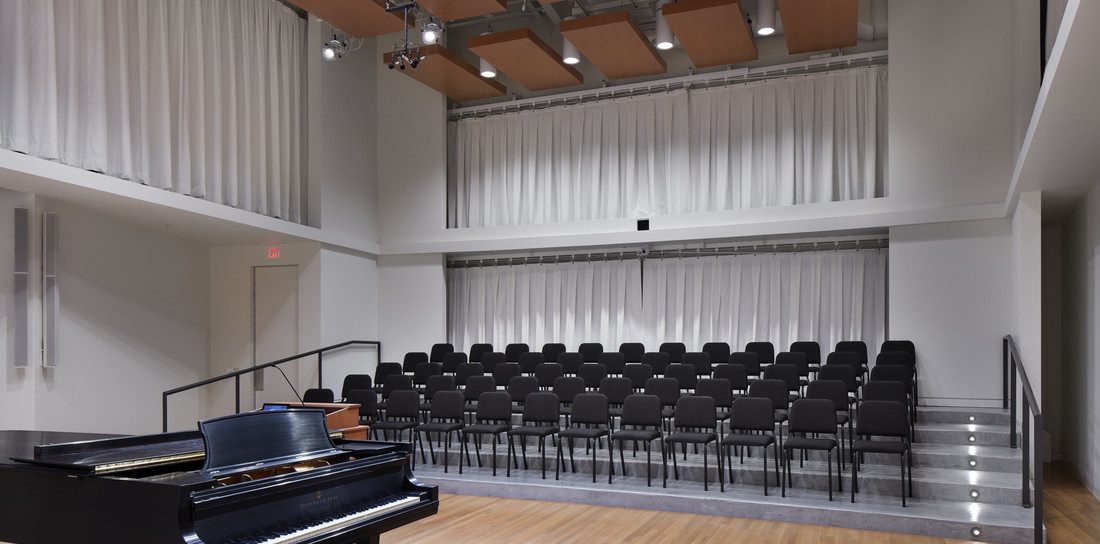 Applebaum Recital Hall can easily support soloists and smaller music groups as well as meetings, events, and presentations.
Dimensions
Stage: 24′ x 30′
The Hall seats up to 60 audience members.
Lighting
Recallable, dimmable LED lighting
A/V
A teaching station offers control of all technology from an AMX Touch Screen panel. Control functions include:
Ceiling-mounted high quality microphones connected to a broadcast quality multi-format digital audio recorder.
Acoustics are adjustable with a choice of reverberant or absorptive wall panels as well as acoustic curtaining.
Teaching station podium microphone that connects to the wall-mounted sound system with ample power for playback of audio and video material.
Video projection using a high quality projector with a motorized projection screen and sound system.
HDMI video connectivity for PCs, tablets, and phones.
Curtains
Window treatments include opaque and black-out motorized shades on all windows.
Backstage
Applebaum Recital Hall does not have a booth or backstage.
Location
Applebaum Recital Hall is located on the second level of the Music and Performance wing of the Weitz Center for Creativity, M215.
Accessibility
Applebaum is accessible via stairs and elevator. There is a main entrance to the space (double-doors) as well as a single-door entrance behind the audience seating area.