Purpose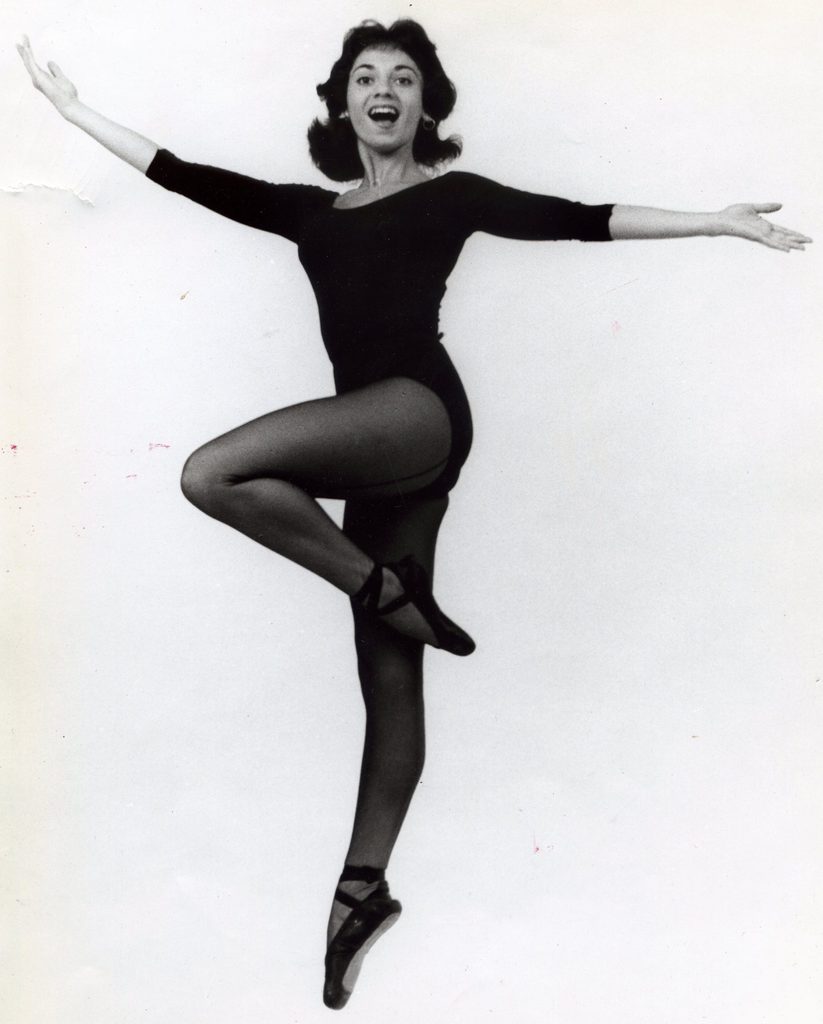 The Carleton Toni Award in the Arts is given to a Carleton student whose character reflects the values, devotion, and spirit of beloved teacher Antoinette "Toni" Sostek. After a distinguished career in dance, including Broadway and national television, Toni joined her husband in the academic world, and spent 25 years as a dance instructor at Carleton before her passing in 1996. Through the metaphor of dance, Toni taught many important lessons in life, especially that every moment in every class was a stage in the long–indeed, never ending–learning process.
This photograph of Toni (upper right) exemplifies her devotion to dance beyond technique: love, enthusiasm, and joy. As a teacher she brought her devotion to the classroom, and most importantly, shared her passion for dance with each and every one of her students. It is that combination of devotion, and willingness to share one's art, that best defines the Carleton Toni Award.
The Arts can include, for instance, Studio Art; Cinema and Media Studies; Creative Writing; Music; Theater and Dance.
For more information, check out this short video about the award from Brian Sostek '90.
Funding
A cash prize is awarded annually. Recipients have unrestricted control over the spending of their awards.
Eligibility
Nomination (unsolicited) by a member of the Carleton faculty, staff, or student body;
Full-time Carleton student;
Senior or junior standing;
Nominee embodies Toni's spirit through the sharing of artistic expression, which best reflects the essence of Toni Sostek's teaching;
Nominee need not be an art major or art star, but someone who loves a particular art form, who throws him or herself into it, who lives and breathes it, and who infectiously imparts that enthusiasm to others.
Previous winners are ineligible;
Non-recipients or runners-up may be re-nominated in subsequent years.
Award Process
1) Nomination:
Any member of the Carleton faculty, staff, or student body is invited to email the name of a junior or senior they wish to nominate to Shannon Lien in the Office of the Director of the Arts by Friday, March 3, 2023.
Nominations will be confirmed with the student. If they accept, they must secure two brief letters of support: one from the original nominator, and one from a faculty member or artistic mentor other than the nominator.
NOTE: If the second recommender is not a member of the Carleton community, the nominee should supply the recommender's name and contact information.
2) Letters:
Brief letters (a paragraph or two will suffice) from the nominator and the second-recommender should be emailed to Shannon Lien, by Friday, March 31, 2023.
The Toni Award Selection Committee will select up to five (5) award finalists by weighing the letters of nomination and support. Finalists will be notified in mid-April, and interviewed by the committee on April 29.