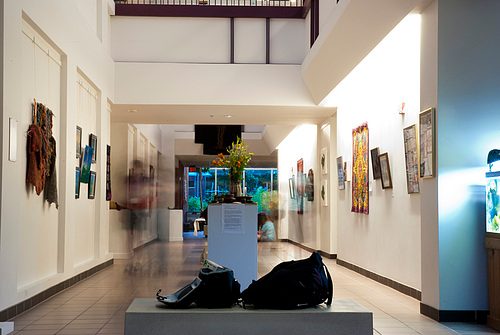 Hulings Exhibition Guidelines
The Hulings Atrium is a wide hallway with picture rails for hanging artwork. Lighting is from skylights and soffit-mounted fluorescent fixtures (West side only) that cannot be directed, dimmed, or altered in any way.
Prospective exhibitors will provide:
name(s) and complete contact information of those responsible for installation and removal, and any faculty member involved
purpose
proposed dates (subject to availability and approval)
Other guidelines:
objects will be hung using existing picture rail/hook/wire system. If holes are made in walls, exhibitor must pay Facilities for repair and repainting.
lightweight objects and labels may be hung with adhesives, if removable and residue-free (such as 3M Command Adhesive products).
no use of pedestals allowed, and objects on wall must be low-profile to allow free-flow of pedestrian traffic.
display the exhibition title, statement, and object labels.
For more information, contact Steve Richardson, Puzak Family Director of the Arts.