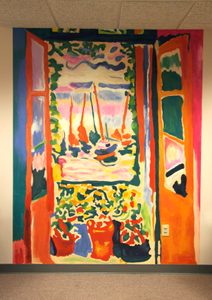 The Carleton Visual Resources Collection provides support for the study of Art and Art History including departmental digital image collections, instruction for scanning images, using subscription image databases and creating presentations.
Digital Resources
The department's digital resources include:
Access other Carleton and Northfield research materials and images through the library's database page, Carleton Digital Collections.
Access the library's full list of art and art history academic resources.
Equipment and Services
There is a large format scanner available for use by students enrolled in studio art and art history classes and by majors during operating hours. The conference room space may be used for small group meetings by appointment. Photography of student artwork in dedicated studio spaces is available by appointment with the Digital Studio Arts Technician or with an educational assistant.
Mural
Visit the mural photo gallery of Matisse's Open Window, Collioure, created by Emma Bentley and Kristina Eldrenkamp in 2010.
Location and Hours
Boliou Hall 146
Monday-Friday 8am-5pm or by special arrangement
Curator
Heidi Eyestone
507-222-5399