Empty Bowls is an annual event that raises money for the local food shelf through a shared meal of community donated soup served in handmade bowls. Everyone is welcome!
How the Carleton Empty Bowls Project works:
Come to the Bald Spot (or Upper Sayles in case of heavy rain) on May 12, 2023. 
Choose a handmade bowl– made collaboratively by Carleton students in ARTS 230 Throwing classes and ceramics student workers.  There are over 500 beautiful bowls to choose from!
Make a donation ($20 is recommended for 2023 but participants are welcome to choose an amount that is right for them) to the Northfield Community Action Food Shelf.  Venmo, credit cards, and cash are accepted.  
Enjoy a community meal of delicious bread and soup donated by generous students, faculty, staff, local bakeries, and friends while getting to know members of your communities.  
Keep the bowl as a reminder of all the empty bowls and stomachs in the world.  

Thank you to CCCE, Bon Appetit, Brick Oven Bakery, Great Harvest Bakery, and Art and Art History for the ongoing support of the Empty Bowls Project!
Empty Bowls Field View of Crowd
#4 of 5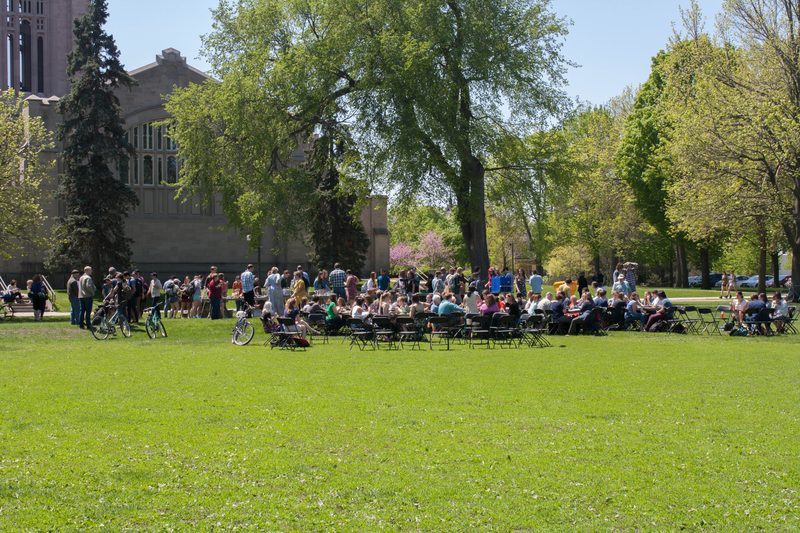 Empty Bowls Field View of Crowd
15 May 2017