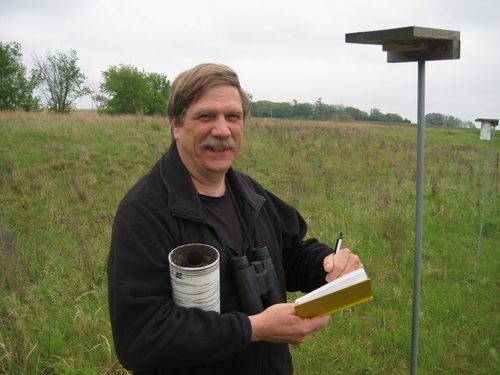 Glenn Lee '80 maintains the bluebird houses and monitors the success of the nesting Bluebirds in the Arboretum and at McKnight Prairie.
The project:
Each year at beginning of breeding season, Glenn checks to make sure the bluebird nest boxes are properly positioned and in good repair prior for  the arrival of migrating Eastern Bluebirds. Once breeding time has begun, he checks each box (there are currently 36 in the Upper and Lower Arbs) for signs of Bluebird nesting. 
Once nests are established, Glenn keeps track of how many eggs are laid, how many hatchlings there are, and how many nestlings fledge. At the end of the breeding season, he compiles all of his observations and forwards them the Minnesota Bluebird Recovery, which then sends them to the Cornell Ornithology Laboratory in Ithaca, New York for archiving and analysis.
Glenn says:
"The Arboretum is a priceless resource for Carleton. Not many colleges have anything like this! The Carleton Arb is right on our doorstep, and it is open 24/7 to everyone. Get to know it. Support it. Use it."