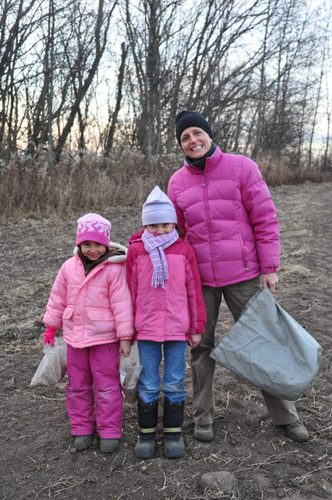 Carol Myint and her daughters, Ananda (7) and Aya (5) Myint stop by to hend a helping hand at a fall planting.
Carol Myint has been volunteering in the Carleton Arboretum for more than four years. Here are some of her thoughts on the Arb:
Why is working in the Arb important to you?
I have both a bachelor and master degree in environmental science, so, from the academic perspective, I understand the important environmental services natural areas provide to us and other living creatures. But from a spiritual and mental health perspective, I love being outside and giving back to the natural world around me, and it makes me feel good. I also volunteer with my children. This instills in them a sense of taking care of the environment, and feeling they are contributing meaningfully to the Arb. It makes them feel more connected and offers me wonderful "teaching moments", tying together protection of our environment and biology lessons.
What are some of your favorite things to do in the Arb, both volunteer projects and recreational activities?
I have pulled buckthorn, weighed seeds prior to planting, planted native seeds, and set up research plots to measure, over time, the prairie restoration sites. I also take my two children on frequent walks throughout the lower and upper Arb. One of our favorite activities is to visit Kettle Hole Marsh in the spring and listen to the frogs calling.
How do you feel the Arb contributes to the community of Carleton and Northfield?
It is great to have this 880 acre preserve adjacent to Northfield. It is free to anyone who wants to enjoy this amazing natural space. It has a diversity of habitats – hardwood forests, oak savanna and prairie along with river habitats. I know and see many people jogging, walking and cross country skiing in the Arb. I take my children to the Arb for "field trips" – outdoor lessons on the environment. Many people feel regenerated and peaceful after time spend outside, and because the Arb is so accessible, people do take advantage of this.
Do you have a favorite place or season in the Arb? Why?
My children love to nest themselves into the lower arb prairies in late summer and early fall. It is like their private space, a playground, and a peaceful quiet time for them to breath in the smells and take in the sights of the early fall prairie. The diversity of plants is amazing, the flowers lovely and we always see monarch caterpillars on milkweed.
Favorite residents of the Arb – flora? Fauna?
The prairie flowering plants (and there are many!) and monarch caterpillars and butterflies.
Do you have a favorite Arb memory?
One spring, my children and I walked to Kettle Hole Marsh in the spring with a net, glass jar, binoculars, rain boots and a magnifying glass. We were all prepared (or so we thought) to catch some frogs, identify the species, observe them up close and then let them go. Despite our best efforts, all of those frogs outsmarted us and we never even got close to catching one! Catching a frog is harder than you might think!
Anything else important you feel like people should know about the Arb?
Volunteering is easy and you only come when you have the time. There isn't any pressure. Even if you only come once a year to volunteer in the Arb, get your name on the volunteer e-mail list!