This winter Arboretum staff will be taking the first steps in a new forest and grassland restoration project, funded through the Minnesota Environment and Natural Resources Trust Fund. The $64,593 grant, administered through the Minnesota Department of Natural Resources, will help restore 38 acres, about 4% of the Arboretum. Arboretum users will notice some big changes, so read on to learn about what this project entails.
The overall habitat management goal of the Arboretum is to restore examples of the native plant communities – the forest, oak savanna and prairie that were originally found in the Northfield area. The current project includes 27 acres of future forest and oak savanna in the Lower Arboretum and ten acres of future prairie in the Upper Arboretum.
The project in the Lower Arboretum includes pine plantations that are declining in health, and previously cut pine areas now choked with brush. The pine plantations to be removed are primarily jack pine, a short lived species that was planted more than 70 years ago. Some of the pine stands were not thinned in past and are now crowded and stunted. Many of these trees are now dead, and are constantly falling over the trail, creating a management hazard for our staff and blocking the way for runners, walkers and skiers. One trail segment will be closed temporarily during the project and for a year afterwards to allow grass to be established.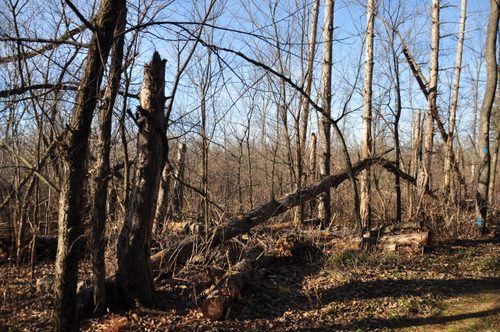 Not all the Arboretum pines will go; other plantations will be retained and thinned in the future to create a more healthy and productive environment. The pines were planted for timber production, and the original intention of the College was to remove them at maturity. The Arboretum staff currently expects to retain some of the pine plantations at the north end of the Arboretum for future lumber use by the Art Department sawmill and for visitor enjoyment.
The Upper Arboretum section of the project includes a former agricultural field now overgrown with brush and short lived trees such as boxelder. The woody material (cut trees and brush) that is removed during the project will be used for lumber, chipped for landscape mulch or used for energy production.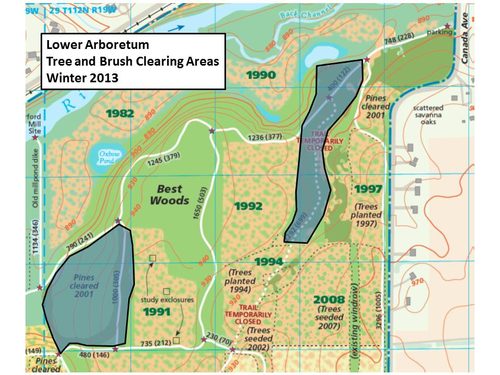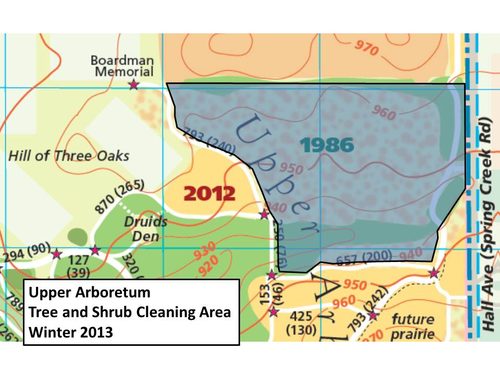 Arboretum staff are currently preparing for a contractor to remove the trees this winter. Trees to be left uncut will be marked with spots of blue paint. Once the trees and brush are removed, additional work will take place to prepare the sites for future replanting.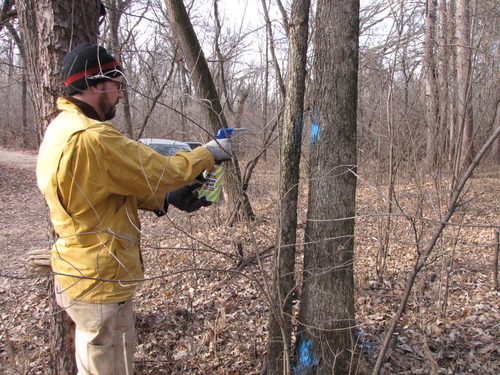 Funding for this project was provided by the Minnesota Environment and Natural Resources Trust Fund as recommended by the Legislative-Citizen Commission on Minnesota Resources (LCCMR). The Trust Fund is a permanent fund constitutionally established by the citizens of Minnesota to assist in the protection, conservation, preservation, and enhancement of the state's air, water, land, fish, wildlife, and other natural resources.