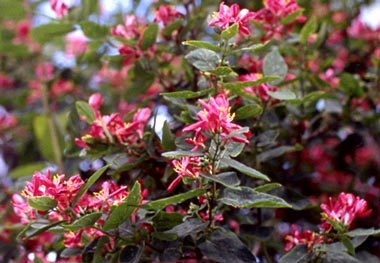 Identification:
Appearance:Upright deciduous shrubs, 5 -12′ high. Lonicera x bella is a horticultural hybrid between L. tartarica and L. morrowii. Older stems have shaggy bark and are often hollow.
Leaves: Opposite, simple, oval, and untoothed.
Flowers: Fragrant, tubular, bloom in May and June, white, red, but most often pink.
Fruit: Fruits are red or yellow, situated in pairs along the stem.
Roots: Roots are fibrous and shallow.
Reasons Honeysuckle is a Problem:
Bush honeysuckles have a wide tolerance of conditions and replace native forest shrubs and herbaceous plants by their invasive nature and early leaf-out.
By shading out herbaceous ground cover bush honeysuckles increase erosion and deplete soil moisture.
Seeds are readily dispersed by birds.
Other Info:
Originating in Eurasia, bush honeysuckles are problematic for many of the same reasons as buckthorn, and large bush honeysuckles are often found mixed into thick buckthorn stands. The ground below thick stands is often shaded out to the point of complete bareness. Honeysuckle is common in all Cowling Arboretum woodland areas.
Cowling Arboretum Procedures for Removal:
Procedures are the same as for buckthorn.