The Carleton Herbarium is a collection of around 2,400 preserved plant specimens. These are used for archival and research purposes.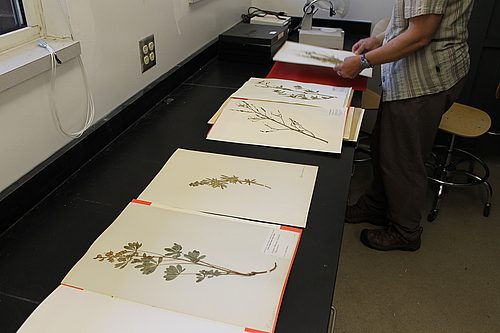 The herbarium contains plants from the Arboretum, and the area surrounding Northfield, Minnesota. While the herbarium itself was established in the 1920s, there are specimens dating from as far back as the 1890s. Originally the Carleton Herbarium contained plants from around the country and world, due to the work of botany professor Harvey Stork and his students. Approximately 6,000 non-local specimens were transferred to the University of Minnesota Bell Museum Herbarium in 2016 where they will be more likely to be utilized by researchers.
Herbariums are used to track geographic distributions of plants over time and for the study of plant taxonomy, and are important for tracking the changes in a plant's original distribution. For example, when a plant becomes rare in certain areas, herbariums may offer records of where botanists and conservation workers might look to find plants that can then be protected or propagated. Although the simple record of whether or not a plant has been found in an area is useful for botanical research, herbariums can also be used for chemical sampling of plants themselves.
Herbariums may be utilized more often as climate change begins to further affect plant ranges. While some plants may cease to grow in the Arboretum, new species may be found that were not there before. Every few years, Arboretum staff, volunteers or visitors will find a plant that was previously unknown at the site. That plant will then be collected, positively identified, and documented in the herbarium.
Specimens are placed in a plant press, allowed to dry, and then mounted on archival paper. A label is also included with location data and ecological information. Once they are dried and mounted the specimens are filed in a large metal cabinet.
The Carleton Herbarium is located in Hulings Hall. Plans are underway to create a digital archive of Carleton's herbarium but current access to the collection is limited to staff and faculty. For more information contact Nancy Braker.