Skippers (Family Hesperiidae)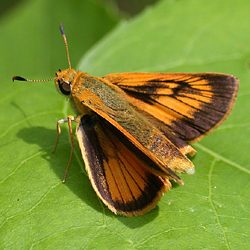 Delaware Skipper (Atrytone lagus) – The Delaware Skipper has a distinctive yellow golden color with dark lines on its upper wings. As caterpillars, Delaware skippers are dependent on two of the dominant grasses in the Arb, Andropogon girardii and Panicum virganum. From mid June to late July adults are also found on these plants within the damp prairie and meadow habitats like Hillside Prairie.
---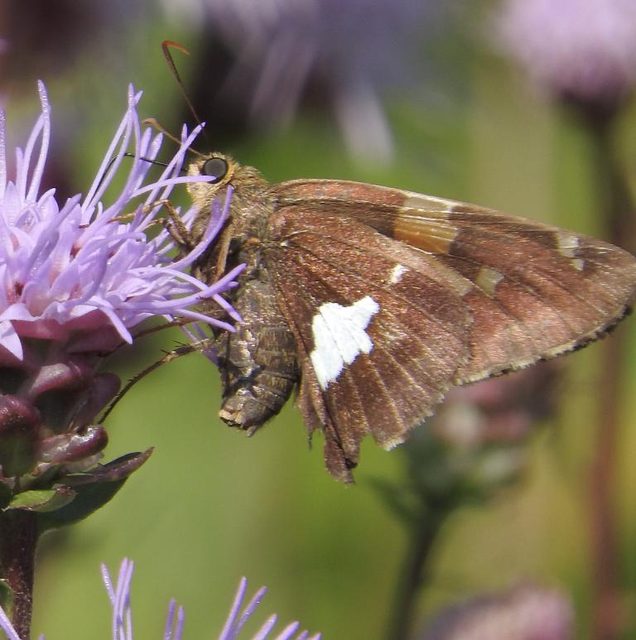 Silver-Spotted Skipper (Epargyreus clarus) – The Silver-Spotted Skipper is the most distinctive and identifiable species in the Hesperiidae family because of the large white spots on their hind wings. They are present in Minnesota from May until late August. In the Arb, they can be found in much of the near forest prairie during, especially during the morning when males are particularly active. Caterpillars feed on Amorpha fruticosa, Amphicarpaea bracteata, Astragalus canadensis, A. crassicarpus, and Lespedeza capitata in the Arb as well as other hostplants elsewhere.
---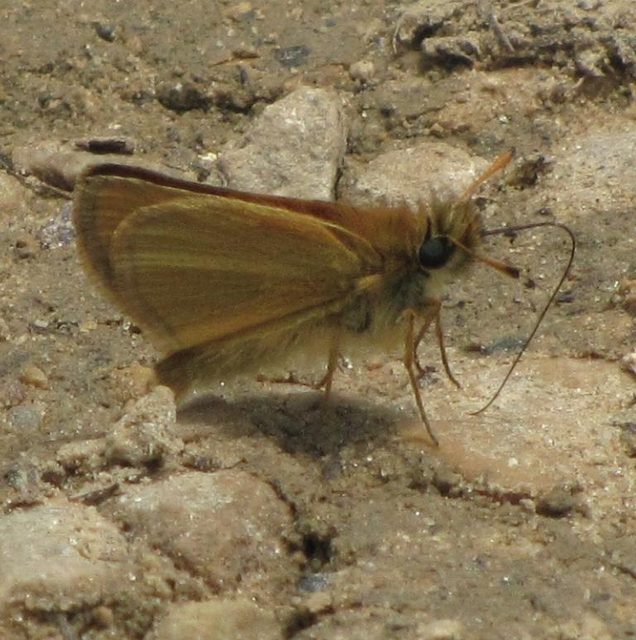 European Skipper (Thymelicus lineola) – This non-native butterfly is originally from Europe, inspiring its common names, European Skipper and European Skipperling. European Skippers are found in the Arb from early June to mid-July. They are common in the Oak Savanna, especially near their hostplant, Phleum pratense. They feed so heavily on Phleum pratense that they have become a pest.
---
Gossamer Wings (Family Lycaendidae)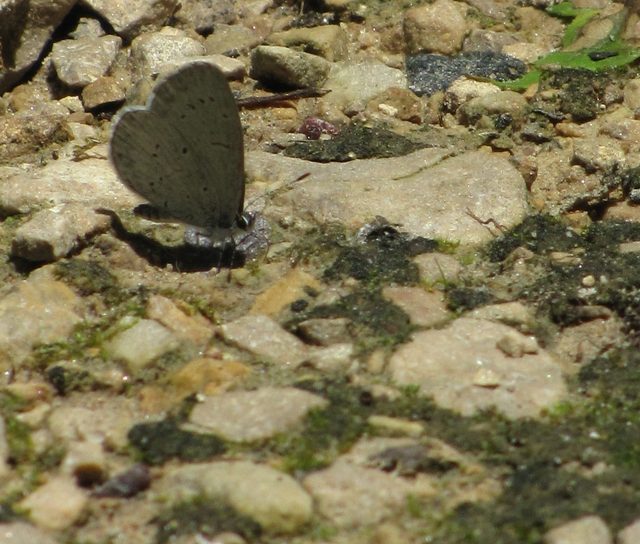 Spring Azure (Celastrina argiolus ladon) – While many species of Spring Azure are common across North America, Celastrina argiolus ladon is the only species found in the Arb. This sub-species is found in Minnesota from April through September with two broods, generations, per year. In the Arb, they are found in open forest and prairie successions especially near their host plants, Prunus serotina, P. virginiana, Ceanothus americanus, Cornus racemosa, Viburnum lentago, Amphicarpaea bracteata, Lespedeza capitata, L. leptostachya, Melilotus officinalis, Helianthus, and Rhus typhina.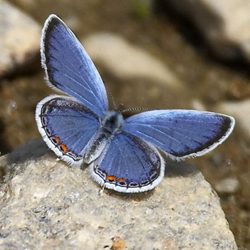 Eastern-Tailed Blue (Everes comyntas) – Eastern-Tailed Blue butterflies can be found in the open prairies of the Arb. These early successional environments are favorable for Eastern Tailed Blues' legume hostplants, Astragalus canadensis, A. crassicarpus, Lespedeza capitata, Lupinus perennis, Medicago lupulina, Melilotus officinalis, Trifolium repens, T. pratense, and Vicia americana. Multiple generations can be seen from May to October.
---
Brushfoots (Family Nymphalidae)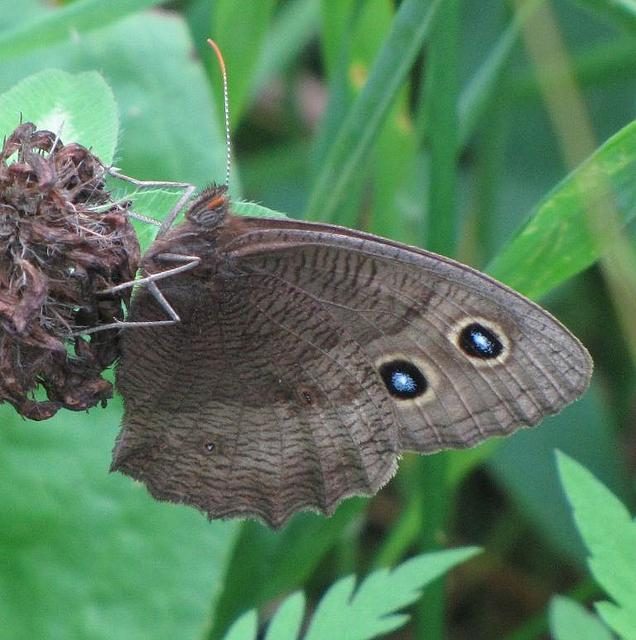 Common Wood Nymph (Cercyonis pegala) – Wood Nymphs can be found across North America, from the Atlantic coast to west of the Rockies and north to southern Canada. Their abundance across the continent has led to a host of common names, including Common Wood Nymph, Large Wood Nymph, Goggle Eye, and Blue Eyed Grayling. Common Wood Nymphs are found in a variety of habitats in the Arb. They are most common in the restored prairie land where their hostplants, big bluestem (Andropogon gerardii) and porcupine grass (Stipa spartea), grow.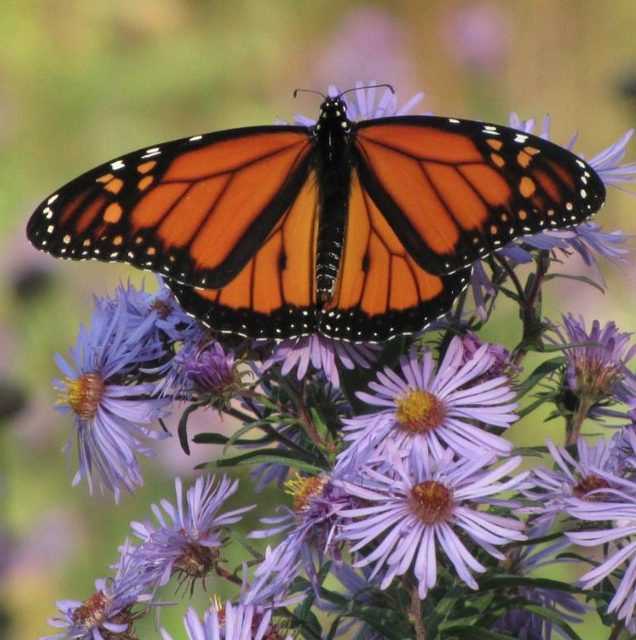 Monarchs (Danaus plexippus) – These charismatic butterflies are famous for their migrations across the Americas. Their northward migration brings them to southern Minnesota beginning in May, but large populations don't gather until September. In the Arb, they are most common during July and August. Caterpillars feed on many varieties of Milkweed, including Asclepias exaltata, A. incarnata, A. syriaca, and A. tuberosa, which are all found in the Arb. This diet makes Monarchs poisonous to predators because milkweed toxins are stored and concentrated in their bodies.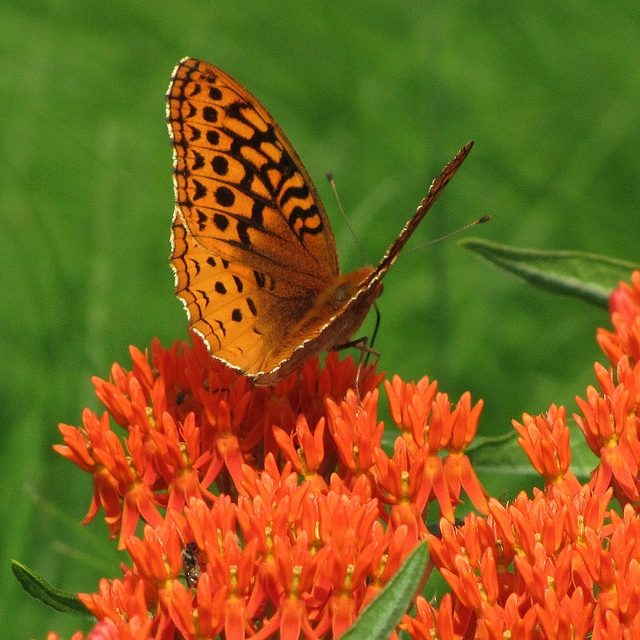 Great Spangled Fritillaries (Speyeria cybele) – Great Spangled Fritillaries are common in the Arb beginning in the early summer through October. They are found in open environments including meadow as well as oak, pine, and conifer woods. Great Spangled Fritillaries only have one brood per year, so all butterflies in one season are of the same generation. Larvae are dependent on violets (Violaceae) for early growth. Although none of the violet species in the Arb are hostplants, the tall white violet (Viola canadensis), which is found in the Arb, is associated with Great Spangled Fritillaries.
---
Swallowtails (Family Papilionidae)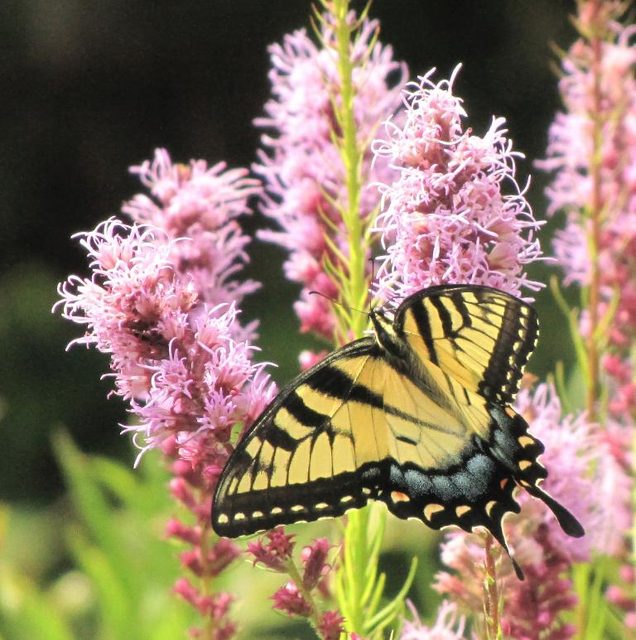 Eastern Tiger Swallowtail (Papilo glaucus) – These large, bright Swallowtails are found across the eastern North America from Southern Minnesota to the Gulf of Mexico. At the northern end of its range, Eastern Tiger Swallowtails are active from May through September. They can be found in virtually all habitats within the Arb, including woods, watercourses, roadsides, and field edges and are easily spotted because of their bright yellow color and large size, 3.125 -5.5 in. They are especially common near their hostplants including some species of fruit trees (Prunus), pine and nut trees (Betulaceae), magnolias (Magnoliaceae), and ash trees, many of which are found in the Arb.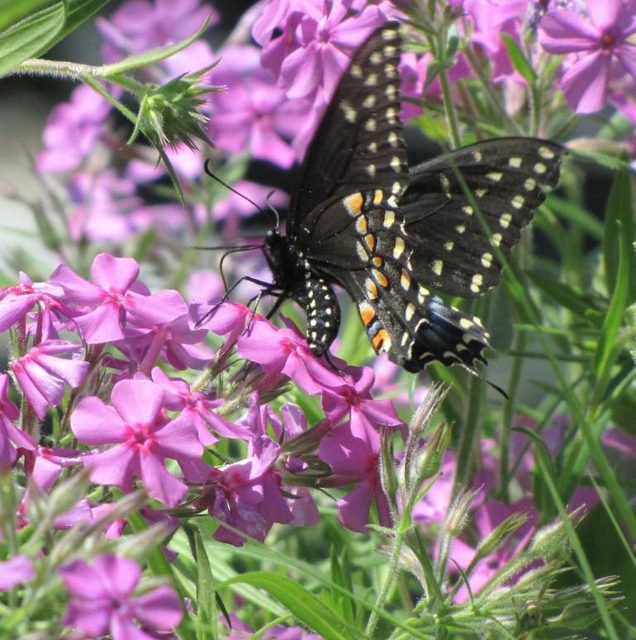 Black Swallowtail (Papilio polyxenes) – Black Swallowtails, also called American Swallowtails, are commonly found in most locations in most habitats within the Arb, especially fields and open space where its hostplants Angelica atropurpurea, Cryptotaenia canadensis, Osmorhiza longistylis, Pastinaca sativa, Cicuta bulbifera, Taenidia integerrima, and Zizea aurea are commonly found. Black Swallowtails are most active from May through September and have several generations every year.
---
Whites and Sulfurs (Family Pieridae)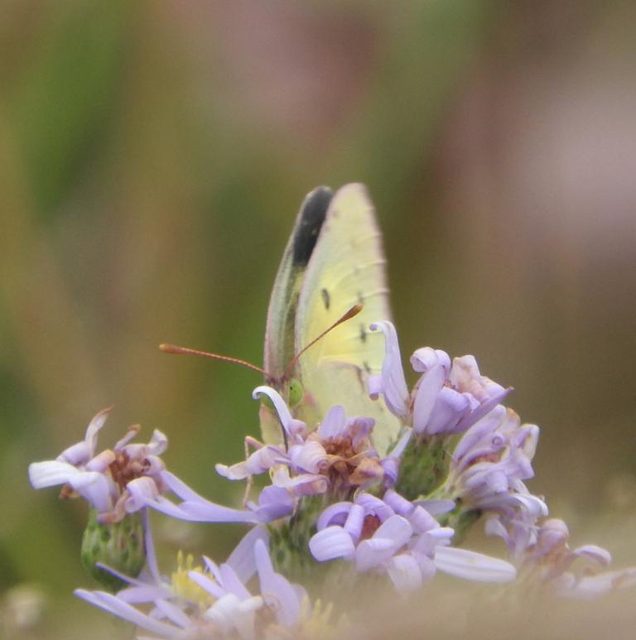 Orange Sulfur (Colias eurytheme Boisduval) – Orange Sulfurs are found across most of North America. In the Arb, multiple generations are present from June to October in almost all Arb habitats, but they prefer open spaces. Orange Sulfurs have a variety of hostplants, including Astragalus crassicarpus, Baptisia alba, Coronilla varia, Lespedeza capitata, Lupinus perennis, Medicago lupulina, M. sativa, Melilotus officinalis, Trifolium repens, T. pratense, and Vicia americana.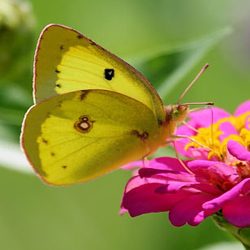 Clouded Sulfur or Common Sulfur (Colias philodica) – Clouded Sulfurs are found across almost all of North America as well as in all habitats in the Arb. In the Arb, Clouded Sulfurs are attracted to the hostplants, Astragalus crassicarpus, Caragana, Lotus, Lupinus perennis, Medicago sativa, Melilotus officinalis, Trifolium repens, T. pratense, and Vicia americana, as well as a variety of legumes. They are most visible in these habitats from May to October.
---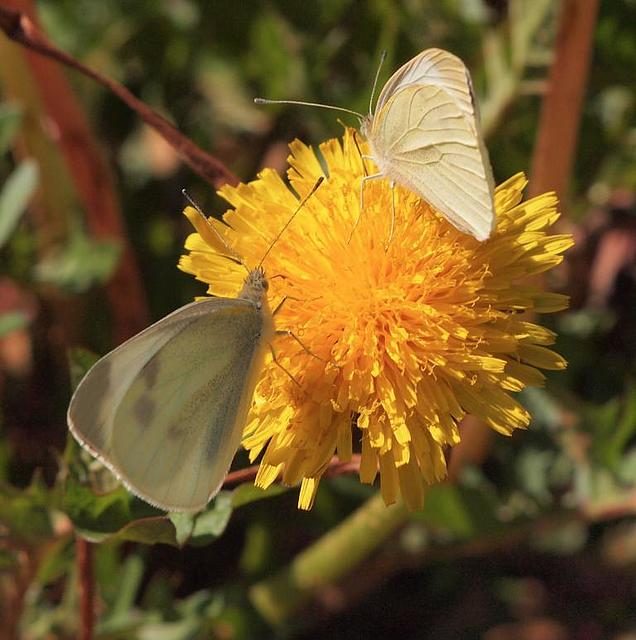 Cabbage White Butterfly (Pieris rapae) – Cabbage White Butterflies are very common across all North America and close to home in the Arb. They especially succeed in human dominated landscapes such as farmlands and fields and have become a pest because they feed on agricultural products and have reduced Mustard White plant populations. Their hostplants includerabis glabra, Barbarea vulgaris, Brassica nigra, Hesperis matronalis, Lepidium densiflorum, Sisymbrium altissimum and Thlaspi arvense. They are most often found in the Arb from March to October, and sometimes until November.