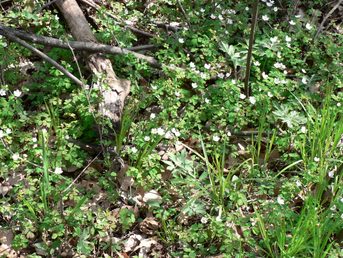 Forbs, another name for herbs, are vascular flowering plants that lack significant above ground woody tissue. This definition excludes grasses and sedges, but includes ferns, horsetails, lycopods, and whisk-ferns
These are the plants that are likely to stand out on the forest floor, making up the ground cover and understory, catching the eye with unique foliage. Discover what forb species can be found in the Carleton Arboretum Upland Forest!
---
Plants listed alphabetically by genus and species.
˚Uncommon
*Rare
ǂIntroduced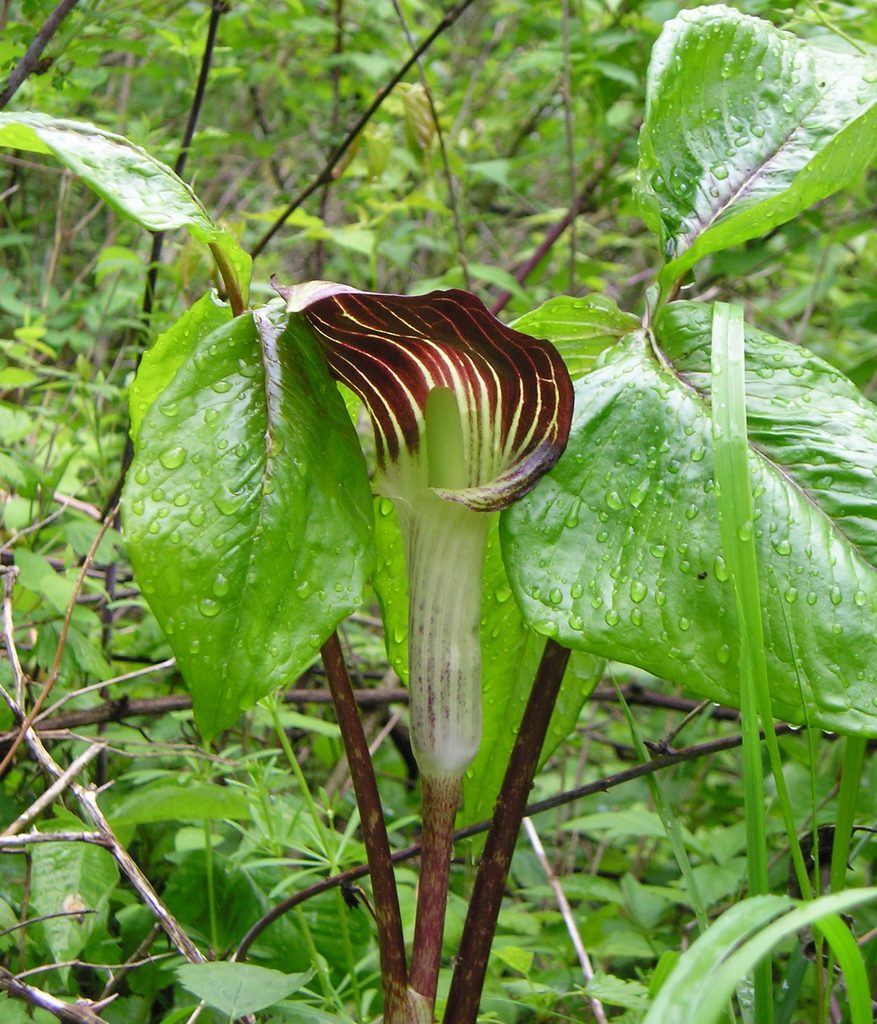 Actaea pachypoda; White baneberry.
Agastache foeniculum; Fragrant giant hyssop.
Ageratina altissima; White snakeroot.
Agrimonia gryposepala; Agrimony.
Allium canadense; Meadow garlic.
Allium tricoccum; Wild leek.
Amaranthus retroflexus; Rough pigweed.
Ambrosia artemisiifolia; Common ragweed.
Ambrosia psilostachya; Western ragweed.
Ambrosia trifida; Giant ragweed.
Amphicarpaea bracteata; Hog-peanut.
Anaphalis margaritacea; Pearly everlasting.
Anemone canadensis; Canada anemone.
˚Anemone cylindrica; Thimbleweed.
Anemone quinquefolia; Wood anemone.
Apocynum androsaemifolium; Spreading dogbane.
Aquilegia canadensis; Columbine.
Arabis glabra; Tower mustard.
Arabis hirsuta; Hairy rock cress.
Aralia nudicaulis; Wild sarsaparilla.
ǂArctium minus; Common burdock.
Arisaema triphyllum; Jack-in-the-pulpit. Pictured Above.
Artemesia serrata; Toothed sage.
Asarum canadensis; Wild ginger.
˚Asclepias exaltata; Tall milkweed.
Athyrium filix-femina; Lady fern.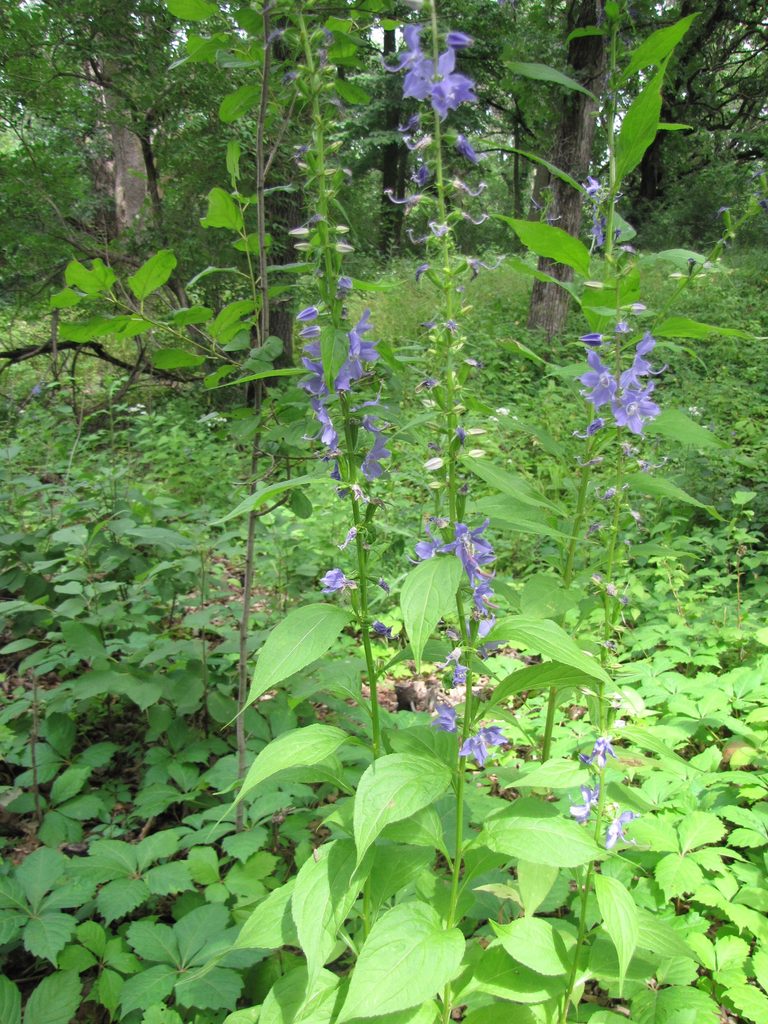 Calystegia sepium; Hedge bindweed.
ǂCampanula rapunculoides; Creeping bellflower.
Campanulastrum americanum; American Tall bellflower. Pictured Below.
Cardamine concatenata; Toothwort.
Caulophyllum thalictroides; Blue cohosh.
Ceanothus americanus; New Jersey tea.
˚Circaea lutetiana; Enchanter's nightshade.
Claytonia virginica; Spring beauty.
ǂConvallaria majalis; Lily-of-the-valley.
Cornus racemosa; Gray dogwood.
Corylus americana; American hazelnut.
Cryptotaenia canadensis; Honewort.
Cystopteris fragilis; Fragile fern.
Desmodium glutinosum; Wood tickleflower.
Dicentra cucullaria; Dutchman's breeches.
Dryopteris carthusiana; Tooth wood-fern.
Echinocystis lobata; Wild cucumber.
Ellisia nyctelea; Waterpod.
Enemion biternatum; False rue anemone.
Erythronium albidum; Trout lily.
Euphorbia corollata; Flowering spurge.
Euphorbia cyparissias; Cypress spurge.
ǂ *Euphorbia esula; Leafy spurge.
Eutrochium purpureum; Joe-pye weed.
Fragaria virginiana; Virginia strawberry.
ǂGaleopsis tetrahit; Hemp-nettle.
Galium aparine; Catchweed bedstraw.
Galium boreale; Northern bedstraw.
Galium concinnum; Shining bedstraw.
Galium triflorum; Sweet-scented bedstraw.
Geranium maculatum; Wild geranium.
Geum canadense; White avens.
ǂGlechoma hederacea; Creeping charlie.

Hackelia virginiana; Stickseed.
Hepatica nobilis; Hepatica.
Heracleum maximum; Cow parsnip.
ǂHesperis matronalis; Dame's rocket.
Hydrophyllum virginanum; Virginia waterleaf.Pictured Below.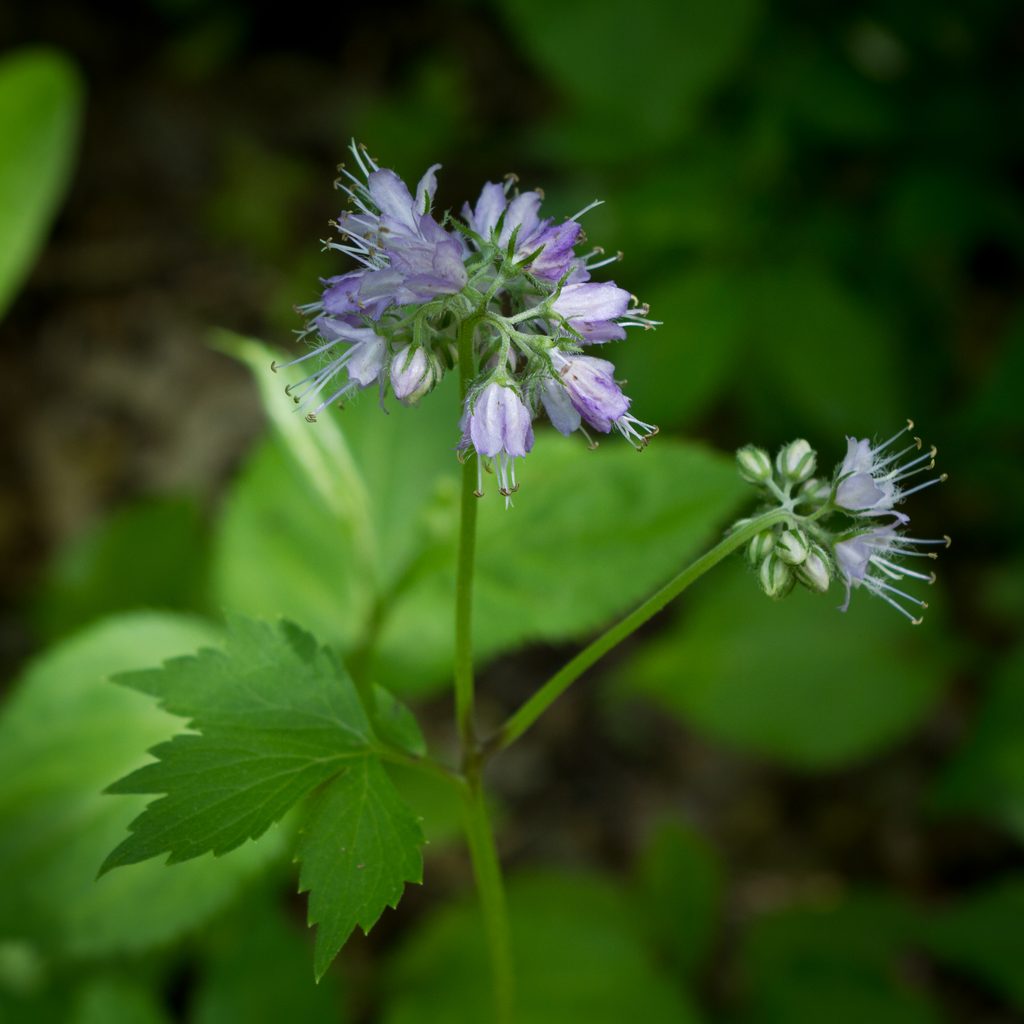 ǂLactuca serriola; Prickly lettuce.
Lathyrus ochroleucus; Pale pea.
ǂLeonurus cardiac; Motherwort.
Lilium philadelphicum; Wood lily.
Lysimachia ciliata; Fringed loosestrife.
Maianthemum canadense; Canada mayflower.
Maianthemum racemosum; False Solomon's seal.
ǂMalva neglecta; Common mallow.
ǂMedicago lupulina; Black medick.
Moehringia lateriflora; Grove sandword.
Osmorhiza claytonii; Bland sweet cicely.
Osmorhiza longistylis; Long-styled sweet cicely.
Phlox divaricata; Blue phlox.
Phyrma leptostachya; Lopseed.
Physalis heterophylla; Clammy ground cherry.
Physalis virginiana; Virginia ground cherry.
Plantago rugelii; American plantain.
Podophyllum peltatum; May-apple.
Polygonatum biflorum; Solomon's seal.
ǂPolygonum convolvulus; Black bindweed.
Polymnia canadensis; Leafcup.
Prunella vulgaris; Self-heal.
Prunus americana; Wild plum.
Ranunculus abortivus; Early wood buttercup.
Ranunculus hispidus; Swamp buttercup.
Ranunculus pensylvanicus; Bristly crowfoot.
Rosa arkansana; Rose.
Rosa blanda; Smooth rose.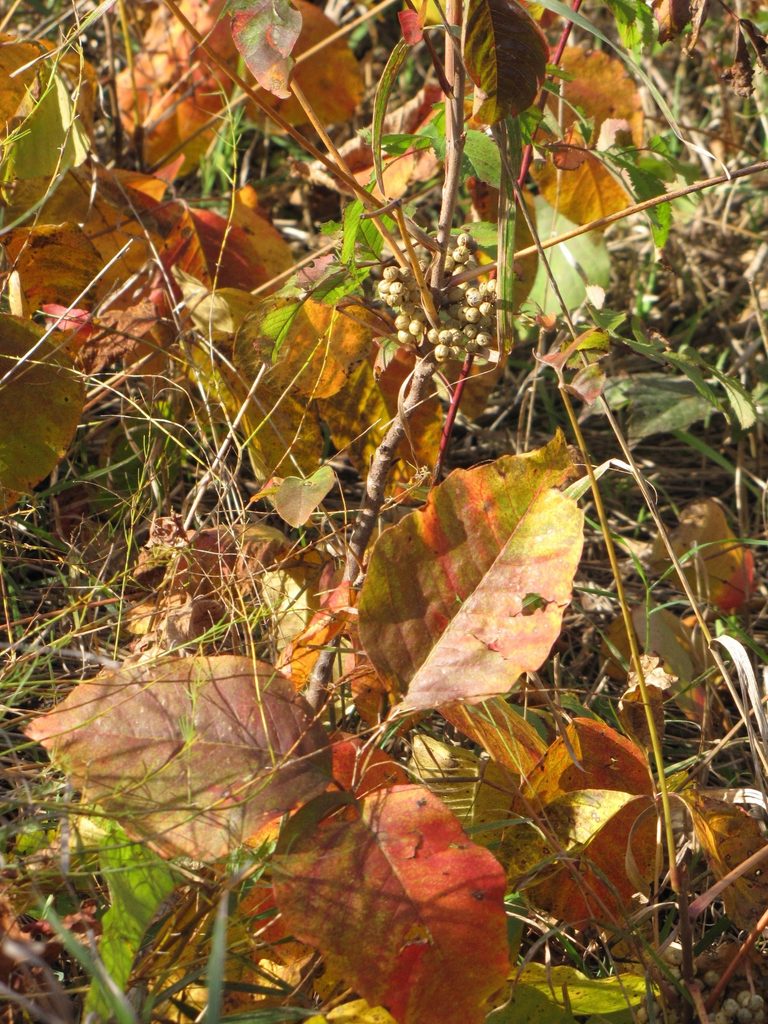 Sanguinaria canadensis; Bloodroot.
Sanicula marilandica; Maryland sanicle.
ǂScilla siberica; Siberian squill.
Scrophularia lanceolata; Figwort.
Scrophularia marilandica; Carpenter's square.
Scutellaria ovata; Eggleaf skullcap.
Scutellaria parvula; Small skullcap.
Sicyos angulatus; Bur cucumber.
˚Silene stellata; Starry campion.
Solanum ptycanthum; Black nightshade.
Solidago flexicaulis; Zigzag goldenrod.
ǂSonchus arvensis; Sow thistle.
Symphoricarpos occidentalis; Wolfberry.
Symphyotrichum ericoides; White heath aster.
Symphyotrichum oolentangiense; Skyblue aster.
Taenidia integerrima; Yellow pimpernel.
Thalictrum dioicum; Early meadow rue.
Toxicodendron rydbergii; Poison ivy. Pictured Above.
Trillium cernuum; Nodding trillium.
Trillium flexipes; Bent trillium.
Triosteum perfoliatum; Horse gentian.
Urtica dioica; Stinging nettle.
˚Uvularia grandiflora; Large bellwort.
Verbena urticifolia; White vervain.
Veronicastrum virginicum; Culver's root.
Viola canadensis; Canada violet.
Viola pubescens; Yellow forest violet.
Viola sororia; Siste violet.