Although Buckthorn hasn't been legally sold in nurseries since the 1930s, it remains one of the largest threats to native habitat in Minnesota. Buckthorn aggressively takes over low-lying damp areas by out-competing surrounding plants for light, moisture, and nutrients in the soil. Buckthorn contributes to erosion by preventing smaller plants from taking root, and provides far less nutrition to birds than native plants. Additionally, Buckthorn is a host plant for pests like the Crown Rust Fungus, which can devastate oat crops and native grasses, and Soybean Aphids, which damage soybean harvests. Buckthorn is illegal to import, sell, or transport in Minnesota.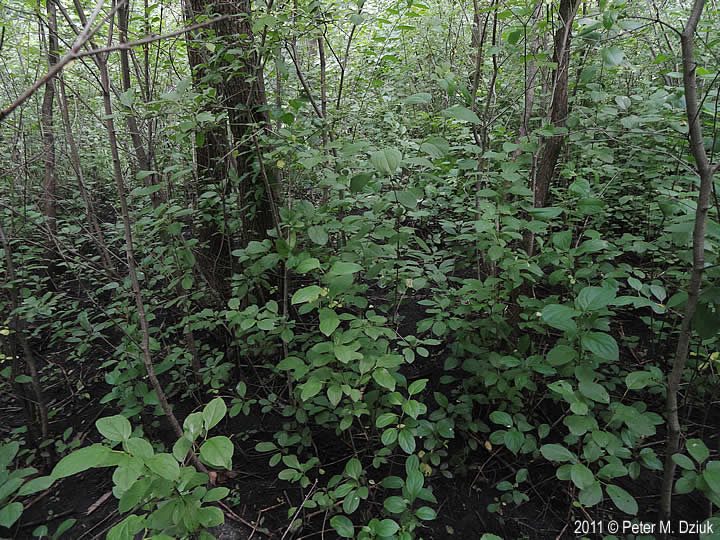 Identification
Common Buckthorn has egg-shaped leaves and round black fruit that are found in clusters resembling berries. Not sure if it's Buckthorn? Try cutting a piece of the bark. If this reveals a yellow sapwood and an orange heartwood, then the answer is yes. Also watch out for common Buckthorn's close relative, glossy Buckthorn, which is also invasive and still sold in nurseries under the names "Columnaris," "Aspenifolia," and "Ron Williams". For more information on identifying common Buckthorn, visit this Minnesota DNR site or our own Arb page.
Removal and Disposal
Buckthorn can be very difficult to remove and Buckthorn seeds can stay in the ground for many years. However, it is now well understood how to remove Buckthorn and keep it out. Usually, a combination of uprooting and herbicide is used to remove plants and then prevent them from resprouting. The best time to remove Buckthorn is from summer through late fall.
Check out these detailed instructions on the removal and disposal of Buckthorn from the Minnesota DNR. Also, find out more about how the Carleton Arboretum manages Buckthorn.
Replacement
Need a hardy plant for poorer soil? Try planting a Grey Dogwood Tree.
Something to grow in wet soil? Try growing a Common Winterberry plant.