General
Why are faculty and staff being asked to participate in antiracism training?
Carleton aspires to be a truly supportive and inclusive learning and work environment for every student, faculty, and staff member. Yet students and alumni are telling us they weren't able to achieve a true sense of inclusion and belonging at Carleton. This should be a concern for all of us. We should all understand the challenges and hurdles of students who want to feel a sense of belonging here. We need to understand the blind spots and prejudices we all have that may impact our community.
To help us achieve these goals, each of us, as members of the Carleton community, must be open to learning about what it means to be an antiracist community. The dialogue and training this winter and spring will highlight the important role each of us can play in advancing toward a more inclusive environment.
What are the college's expectations concerning antiracism training for faculty and staff?
Whom do I contact if I have a question about or suggestion for this training?
Contact Kathy Evertz, project manager, at kevertz@carleton.edu. She will route your question or suggestion to the appropriate individual(s) or committee.
Community-Wide Monthly Webinars
What if I cannot attend or miss a particular "live" community-wide webinar?
Human Resources will follow up with you by e-mail, to give you advance notice that you will receive an e-mail from noreply-hr@carleton.edu, which will contain the link to the video recording. Please see the screenshot below for an example of the e-mail. If you do not see the email, please check your junk/spam folder.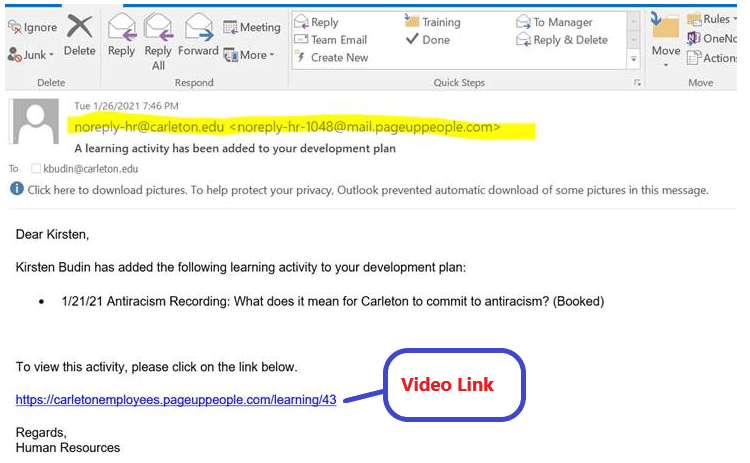 What if I attended a community-wide webinar but want to view it again?
A link will be posted on the Tentative Schedule by the end of the day on the Monday after the event.
How can I be sure that I remain anonymous if I ask a question or post a comment in the Q&A window during a community-wide event?
To make a comment, open the Q&A window, which allows you to pose questions to the host and panelists.
Check Send Anonymously if you do not want your name attached to your question in the Q&A.To ask a question, type it into the Q&A box. Click Send.
The host or a panelist may reply to you privately via text in the Q&A window, or they may answer your question in the large group. We cannot guarantee that there will be time to address all questions or comments.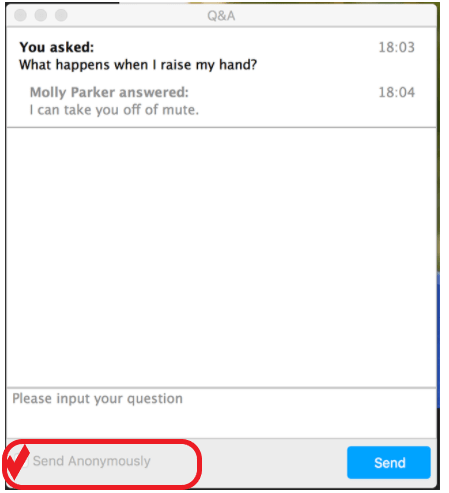 Monthly Affinity Group Meetings
How do I add a particular affinity group meeting to my calendar?
These instructions will help you navigate selecting a group, signing up, and adding the appointment to your calendar. You may access the groups through this website.
Questions and Answers from Community-Wide Events
Affinity Groups
Will there be lots of different time options to choose from for the affinity groups?
There are 12 groups held at multiple times during each month: one biracial/multiracial group (led by Dr. French), three BIPOC affinity groups (all led by Dr. French), one "open to all racial identities group" (led by both Dr. French & Dr. Brookfield), and seven White affinity groups (all led by Dr. Brookfield).
I am not clear about the affinity groups–so can one pass on them and not attend? Or do you mean that one needn't say anything when called upon within the group?
The trainers want everyone to attend an affinity group meeting each month as a way to process and more deeply engage with the material presented. Self-disclosure is under your control, and thus you choose how much to participate in any given discussion.
What do you advise for those of us who are mixed race or may have affinity with more than one group?
There is one group each month specifically for those who identify as biracial or multiracial. We anticipate that people may switch groups from month to month based on schedules, commitments, and interests. We will also discuss the complexity of racial identity within the affinity groups.
Is it possible to choose the wrong affinity group? I feel anxious about finding myself in the wrong place. I am multiracial.
The trainers suggest you choose the biracial/multiracial group (led by Dr. French) scheduled each month, or the "open to all identities" group. But if those times don't work for you, please select the group you think would be most beneficial to your antiracism journey.
Will we be in the same group throughout these next months?
Participants will sign up for affinity groups on a month-by-month basis. We anticipate that people may switch groups from month to month based on schedules, commitments, and interests.
Am I correctly understanding that this team of trainers will personally lead each of the affinity groups?
Dr. French will lead all the BIPOC groups. Dr. Brookfield will lead all the White affinity groups. Additionally, there will be a biracial group led by Dr. French each month and Drs French & Brookfield will together facilitate one "open to all racial identities" group each month.
Will participants have any opportunities to share anonymous feedback/suggestions to our facilitators after these sessions?
The trainers will be using tools such as sli.do, backchannelchat.com or tweedback.de to share anonymous feedback during and after the sessions.
We see a group of Whites talk, we see a group of Blacks talk, we see everyone suffering. Why can't we all talk together?
The trainers hope to get to that point. But in the initial stages of a multi-year antiracism effort, they have strongly advised that racial affinity groups be held first. As the Carleton antiracism initiative develops, conversations across racial difference will become more frequent. However, of the 12 affinity group meetings held each month, one will be open to all racial identities.
Given the fraction of BIPOC is really small and will be such in any group, how are you going to ensure that their voices are heard on an equal level? Does everyone get an equal opportunity to express themselves?
This is one of the reasons we are starting off with BIPOC-only groups and White-only groups. Those who identify as biracial/multiracial also have a group available each month, as do those who wish to join an "open to all racial identities" group. The small breakout groups within each affinity group will allow everyone who wishes to express themselves to have an opportunity to do so.
I am BIPOC, but I am very light skinned and may read as White to some people. My light skin does confer privilege. Do you have advice on which affinity group to select?
The trainers want to give you as much choice as possible. You could try a White affinity group one month, a BIPOC affinity group the next, or the 'open to all racial identities' group. If you are uncomfortable with this approach, they would advise beginning with a BIPOC group – many BIPOC individuals have similar experiences of passing as White and/or being raised in predominantly White spaces. This is part of the complexity of living as a racially minoritized person that the trainers hope to begin to unpack with us.
Discussion Protocols
I think forcing people to participate in small group discussions is a bad idea. Silence doesn't mean disagreement. We have no way of knowing people's experiences and their comfort level in talking about them with their coworkers. I understand that attending the affinity groups is mandatory, and I think that's fine. But forcing people to talk in these groups is another matter entirely and, in some cases, may be anxiety inducing.
The trainers agree. Whether or not you talk, what you say, and how often you contribute are entirely under your control. Silence is an extremely complex phenomenon and can signify multiple realities. They will not assume that silence means disengagement or lack of commitment, nor that verbosity signals agreement and endorsement.
Where can I find the "circle of voices" protocols that the discussion groups will be following?
The circle of voices can be found in The Discussion Book (Brookfield & Preskill, 2016) and also on Dr. Brookfield's website: http://www.stephenbrookfield.com/powerpoints-pdfs. The protocol is as follows:
Begin with everyone silently thinking about a question & spending 1-2 minutes quietly making notes on their responses to the question.
Each person then takes a turn to speak about the mental or written notes they have made in response to the question – no interruptions are allowed.
We move into open conversation with the ground rule that people can only talk about what someone else said in the opening round – this can be a disagreement, critique, extension, example, question or any other response to someone else's opening comment.
Content
Where can I find the New York Times videos that were shown in the February large-group session?
From what literature/thinkers have the trainers developed their understanding of racism?
A partial list of their literature base is available at this link and the Radical Healing Syllabus that offers a glimpse of some of the scholarship Dr. French draws from.
What assumptions about participants' prior knowledge about race do the trainers bring to the training?
The trainers assume that people's prior knowledge, understanding, and experiences are widely varied. Some will have a great deal of experience wrestling with these topics, and others will be considering these issues for the first time.
Why is competence synonymous with Whiteness or White culture?
The trainers do not believe competence is synonymous with Whiteness. However, White Supremacy Culture often leads people to presume that Black, Indigenous, and People of Color lack competence and thus need to prove themselves in ways that White professionals often are not expected to. BIPOC might also internalize this negative stereotype of their racial group and thus devalue their knowledge and skills.