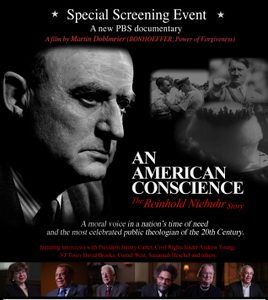 In advance of its premiere on PBS this spring, Carleton College will host an early screening of Martin Doblmeier's highly anticipated documentary film, "An American Conscience: The Story of Reinhold Niebuhr" on Sunday, Feb. 19 at 7 p.m. in the Weitz Center for Creativity Cinema.
Emmy Award-winning director Doblmeier will also be on hand to introduce the film. Following the screening, a panel discussion will be moderated by Richard Crouter, John M. and Elizabeth W. Musser Professor of Religious Studies Emeritus, together with Anthony Bateza, instructor of religion at St. Olaf College; Carleton professor of religion Lori Pearson; and St. Olaf professor of religion and director of the Institute for Freedom and Community Edmund Santurri.
"An American Conscience: The Story of Reinhold Niebuhr," scheduled for release in March 2017, tells the dramatic story of one of the great American public intellectuals from the last century—and how Niebuhr emerged as a voice of conscience during the defining eras in American history.
This powerful, insightful and inspiring documentary—written, directed and narrated by Martin Doblemeier—is rich in archival material and features new interviews with former President Jimmy Carter, civil rights leader Andrew Young, New York Times writer David Brooks, activist and author Dr. Cornel West, author Susannah Heschel, and a host of notable historians and theologians. Actor Hal Holbrook is also featured in the film, as the voice of Reinhold Niebuhr.
Although he may be best remembered today as the author of the famed "Serenity Prayer," Reinhold Niebuhr—an outspoken American-born pastor, writer, and political activist—remains one of the most influential public theologians of our time, and his writings continue to offer guidance and inspiration on the most volatile and social issues of our time. Presidents from Barack Obama to Jimmy Carter have credited his impact on their thinking, as well as John McCain, countless historians, theologians, political thinkers, and Dr. Martin Luther King, Jr., who cited Niebuhr in his "Letter from a Birmingham Jail."
Niebuhr rose from a small Midwest church pulpit to become the nation's moral voice—an American conscience—during some of the most defining moments in recent history. His books, Moral Man and Immoral Society (1932), The Nature and Destiny of Man (1941–43) and The Irony of American History (1952), continue to influence theological and political thinking.
Niebuhr's career spanned some of the most tumultuous decades in American history, from World War I through Vietnam, from the Great Depression through the Civil Rights Movement. An early pacifist and socialist, he was closely monitored by J. Edgar Hoover's FBI throughout his life, but would later serve as a consultant to the State Department during the Cold War.
An American original, his unique insights into human nature and its relationship to political movements and social justice propelled him to speak openly, and often critically, to an America consumed by moral certainty. For Niebuhr the priority was always justice, his guiding principle was hope in a redeemer God, and his weapon was an extraordinary gift for clarity of thought that made him a leading voice of conscience for his time.
Learn more and view the trailer for the film.
This event is free and open to the public, and is sponsored by the Carleton College departments of American studies, religion, and Arts@Carleton, together with the St. Olaf College Institute for Freedom and Community and the Martin E. Marty Chair in Religion and the Academy.
The Weitz Center for Creativity is located at Third and College Streets in Northfield. For more information, including disability accommodations, call (507) 222-4232.