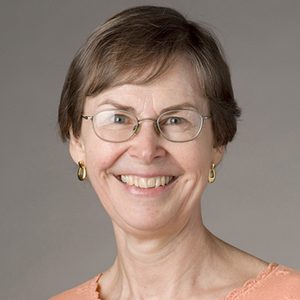 Esteemed Professor Elizabeth McKinsey will deliver Carleton's annual Argument & Inquiry Seminar Convocation on Friday, Sept. 22 from 10:50 to 11: 50 a.m. in the Skinner Memorial Chapel.
Designed to stimulate student reflection on the nature of liberal arts and a liberal arts approach to learning, this annual convocation encourages students to consider what sort of challenges, opportunities, and responsibilities are inherent in a liberal arts education — and how liberal learning will benefit themselves and their communities in the future. The title of McKinsey's presentation is "A Case of Liberal Arts Education: Language, Wonder, and Care."
Carleton convocations are free and open to the public. They are also recorded and archived for online viewing.
McKinsey is the Maxine H. and Winston R. Wallin Professor of American Studies and English. With her joint appointment in both American studies and English, her teaching interests include American literature, art history, and cultural history, with particular focus on landscape, place, and ideas of regional and national identity. McKinsey first came to Carleton in 1989 and served as Dean of the College until 2002. She has served as a full-time faculty member since 2003.
This event is sponsored by Carleton College Communications. For more information, including disability accommodations, call (507) 222-4308. The Skinner Memorial Chapel is located at First and College Streets in Northfield.