Apr
28
GUEST: Emery Stephens Concert
Fri, April 28, 2023 • 7:30pm - 9:00pm (1h 30m) • Kracum Performance Hall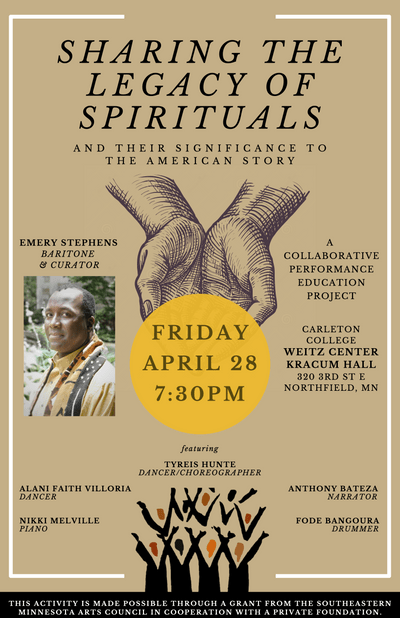 "Sharing the Legacy of Spirituals" is a performance education project, which offers vocal and piano arrangements of African American spirituals, interspersed with African drumming, dance, and narration, curated by Dr. Emery Stephens. 
Many special guests will join Emery onstage including Nikki Melville, piano, Fode Bangoura, drummer, Tyreis Hunte, dancer/choreographer, Alani Faith Villoria, dancer, and Dr. Anthony Bateza, narrator.
Join us to learn the historical context and themes of these transformative and expressive songs!
This is a free event open to the public! No reservation or ticket required.
This activity is made possible through a grant from the Southeastern Minnesota Arts Council in cooperation with a private foundation.
from Music Department