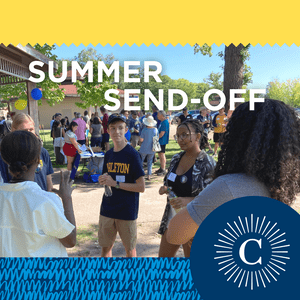 We had over 800 attendees to welcome the Class of 2026, including students, families, and alumni over the course of 17 in-person and 5 virtual events. We couldn't have held all of these gatherings without our tremendous group of more than 150 co-hosts for both virtual and in-person events and we thank them for everything they did to make the events a huge success. Co-hosts included alumni, current students, and parents/guardians of current students.
We are excited to welcome the Class of 2027 to campus next year. Look for event dates in spring of 2023.
Summer Send-Offs are a wonderful opportunity for Carleton's newest students to come together and meet other Carls from their area who will be a part of their incoming class.
These informal gatherings take place across the country and are designed to ease the anxiety of leaving home, foster a sense of community amongst alumni and current students, and celebrate being part of Carleton. It is also a time for parents and family members to build their own support system as families embark on this journey together. Events will be held in person and also virtually, via Zoom.
For alumni, current students and their families, we hope you will join us at one of these events!
These optional gatherings, hosted by current Carleton students, parents, and alumni, are intended to be purely social. Have fun! They are not intended to serve as an orientation.
When we make the registration forms available for these events, you are welcome to register for any gathering that is convenient for you, either in person or virtual.
At in-person events, we will be asking non-Class of 2026 attendees to help provide COVID-safe food and drink. When we make the registration forms available for these events, we will also provide a link to sign up for what to bring.
For the virtual events, we encourage parents or family to register for the gatherings separately from their students and use separate devices during the event if possible, as we will break into separate student and parent/family breakout rooms during the event. Parents and family are welcome to register for these gatherings even if their student is not able to participate, and vice versa.
---
Summer 2022 Gatherings
In-Person Locations – U.S. only
For all in-person gatherings, attendees are expected to be fully vaccinated and boosted (if eligible) or to have received a negative COVID-19 test result no more than 24 hours before the event.
Bay Area, CA
Saturday, July 30
10:00 a.m.- 12:00 p.m. PT
San Mateo's Central Park, Picnic Area 3
50 East 5th Avenue
San Mateo, CA 94403
Boston, MA
Sunday, August 14
2:00 – 4:00 p.m. ET
Cambridge Common
Waterhouse St & Massachusetts Ave
Cambridge, MA 02138
Chicago, IL
Saturday, August 20
2:00 – 4:00 p.m. CT
Schiller Woods-West – Shelter 12
W Irving Park Rd, east of Des Plaines River Rd
Chicago, IL 60634
Denver, CO
Saturday, August 20
3:00 – 5:00 p.m. MT
Highland Heritage Regional Park – Shelter A
9651 S Quebec St
Highlands Ranch, CO 80130
Hillsborough, NC
Sunday, August 28
2:00 – 4:00 p.m. ET
River Park Pavilion
140 E Margaret Ln
Hillsborough, NC 27278
Honolulu, HI
Saturday, August 27
10:00 a.m. – 12:00 p.m. HST
Newtown Community Association Recreation Center
98-456 Kaahele Street
Aiea, Hawaii 96701
Houston, TX
Saturday, August 27
10:00 a.m.- 12:00 p.m. CT
Houston Arboretum & Nature Center
4501 Woodway Dr
Houston, TX 77024
Los Angeles, CA
Sunday, July 24
2:00 – 4:00 p.m. PT
Kenneth Hahn Recreational Area
Blue Lagoon Picnic Area
4100 S La Cienega Blvd
Los Angeles, CA 90056
Virtual Gatherings – U.S. and International
Don't see an in-person event in your region? We are offering five virtual events. Access the registration form for an event from the event names below.
Caribbean/Central & South America
Monday, August 8
6:00 – 7:00 p.m. UTC-5
with Director of International Life Liz Cody
China
Thursday, August 4
8:00 – 9:00 p.m. UTC+8
with Director of International Life Liz Cody
East/South Asia/Australia/New Zealand
Wednesday, August 10
8:00 – 9:00 p.m. UTC+7
with Director of International Life Liz Cody
Africa/Europe/Middle East
Tuesday, August 9
7:00 – 8:00 p.m. UTC+2
with Director of International Life Liz Cody
United States/Canada/Mexico
Wednesday, August 31
7:00-8:00 p.m. ET
with Alumni Relations staff
Summer 2021 Highlights
Questions? Contact Alumni Relations at alumni-office@carleton.edu, 800-729-2586, or 507-222-4205.