Apr
13
Carleton Virtual Breakfast Club
Thu, April 13, 2023 • 8:00am - 9:00am (1h) • virtual
Carleton Virtual Breakfast Club
When Life and Art Collide
with Eric Mueller '87
Thursday, April 13, 2023
8 a.m. Central Time
via Zoom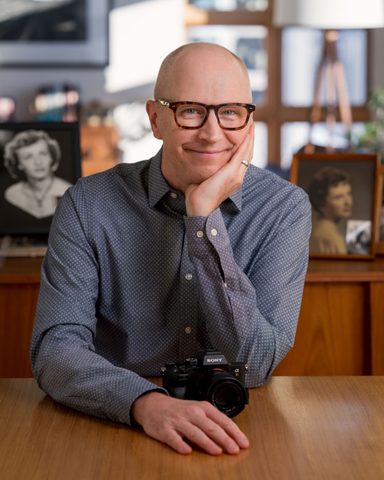 Eric Mueller '87 is an artist, photographer, and teacher in Minneapolis. After working for 25 years in film and television, Instagram inspired him to quit his job and become a full-time photographer in 2014.
For his multi-year project, Family Resemblance, he photographed genetically-related people who bear a strong resemblance to one another. An adoptee, Eric never saw anyone he resembled until he was 45 years old, when he received a photograph of his birth mother in the mail. Family Resemblance was published by Daylight Books in 2020.
Eric will talk about finding his artistic voice, and the (sometimes surprising) connections between his work and his life.
Register by Wednesday, April 12 to participate in this Zoom event.
Cost: None.
Unable to join our live event? No problem—we will post a recording of the event on our Alumni Events Recordings page.
Questions? Contact Alumni Relations via email or 800-729-2586. To join the Carleton Breakfast Club email list, email alumni-office@carleton.edu and indicate you would like to be added to the Carleton Breakfast club email list.