Jan
23
Local talk with Gordon Moore '85
Mon, January 23, 2023 • 9:30am - 12:30pm (3h) • St. John's Lutheran Church 500 Third St E Northfield, MN 55057
You're invite you to a talk with
Minnesota Supreme Court Associate Justice
Gordon Moore '85 
Monday, January 23, 2023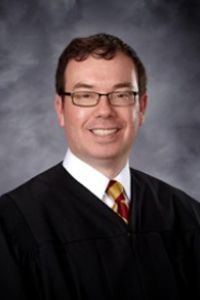 9:30 a.m.
St. John's Lutheran Church
500 Third St E
Northfield, MN 55057
Join us for the Out'n About: Conversations with Minnesotans speaker series event featuring Minnesota Supreme Court Associate Justice
Gordon Moore '85.
Costs: $15 includes speaker, 9:00 am coffee, 10:15 a.m. coffee/treats, and 11:30 a.m. sandwich lunch from Hideaway Vault. Cash or check only, payable day of event.
Register by January 18 by calling
507-301-9094 or emailing: outnabout022@gmail.com
Sponsored by St. John's Adult Ministry & Education and Northfield Area Retired Educators (NARE)