Jul
26
Carleton Happy Hour in Denver
Tue, July 26, 2022 • 5:30pm - 7:30pm (2h) • Odell Brewing Company Sloan's Lake 1625 Perry St., Denver, CO 80204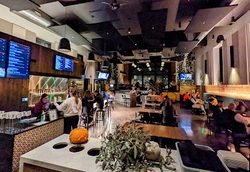 Event Date
Tuesday, July 26
5:30 p.m. to 7:30 p.m.
Location
Odell Brewing Company Sloan's Lake
1625 Perry Street
Denver, CO 80204
Our monthly happy hours are back and are casual, low-key opportunities to catch up with alumni and parents in the area.
Highlights of Odell Brewing Company Sloan's Lake include:
a rooftop patio overlooking Sloan's Lake and the Rocky Mountains
two bars with 16 Odell tap handles
made from scratch pizza
live music
We generally rotate between Boulder and Denver, and between hosts of different class years. If you're interested in helping organize every 3-4 months, or have suggestions for future event locations, we'd love to hear from you!
Cost: Purchase your own drinks and/or food.
No RSVP needed.
Directions: Google Maps can be used for driving and public transit directions.
Questions? Contact Katie Williams '10 at williamk25@gmail.com.