Oct
7
Jonathan Alarcón guest musical artist from Honduras, featuring Dean Magraw
Fri, October 7, 2022 • 12:00pm - 1:00pm (1h) • Severance Great Hall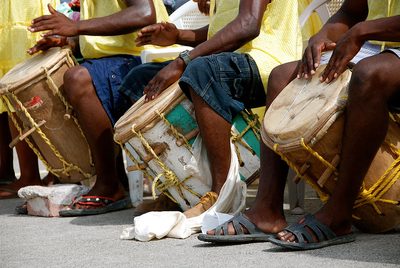 **** Please note that you must RSVP for this Convocation Luncheon. See the RSVP link on the left side of the page. Any questions, please contact Noel Ponder / nponder. 
As a professional drummer, Jonathan is accomplished in a wide range of musical styles, with his first love being jazz.  In Honduras he performs and records regularly with several of the top bands in the country playing jazz, cumbia, rock, salsa and traditional music. He is also well-acquainted with the indigenous Garifuna music and the importance of music in the Garífuna community, having studied and played with Garífuna musicians in their community. Jonathan recently spent time collaborating with one of the top Garífuna drumming experts, Chichimán, and will bring with him an authentic handmade Garífuna drum and maracas made specifically for him by Chichimán.
First in Minneapolis in 2017 for the Nobel Peace Prize Forum held at Augsburg University, Jonathan performed with the Honduran band Cienaños, an influential musical group known for their engaging music and strong call for social and political justice in Honduras.  Since then, Jonathan has developed a strong working relationship with the Languages and Cross-Cultural Studies Department at Augsburg University, where he has met with numerous Spanish-language classes, from beginning to advanced, teaching songs of resistance and sharing his insights into the Honduran and Garifuna cultures, discussing the current political climate where indigenous cultures continue to be persecuted and exploited for their land and their traditions.  In March of 2022 Jonathan presented a multicultural interactive drumming workshop for the Augsburg Music Department.
Featuring Dean Magraw - Composer, arranger, producer, guitarist Dean Magraw has fine-tuned his passionate "Heavy Meadow" approach to music from years of performing and recording with some of the finest musicians in the North America, Europe, and Japan.
from Convocations Events