Jul
24
Summer Send-Off in Los Angeles
Sun, July 24, 2022 • 2:00pm - 4:00pm (2h)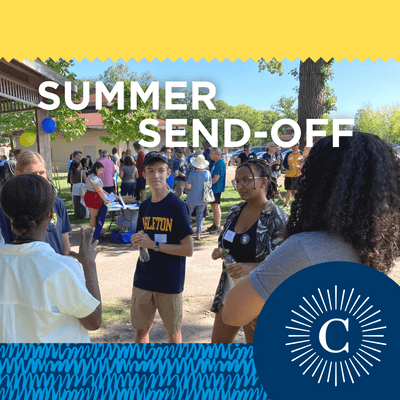 We hope you'll join us to welcome the Class of 2026 and their parents and get together with the entire Los Angeles area Carleton community. Wear your Carleton College gear to show your Carleton pride!
Hosts include Leslie Kautz '80 P'15, Maggie Sauer '16 & Kabir Sarjan '16, Kirstin Cook '15, Maurice & Julie Suh P'24, Yilun Liu '21, and Swathi Varanasi '14.
Parking: If you plan on driving and parking at the park, there is a $7 entrance fee. Alternatively, The Link - Baldwin Hills Parklands Shuttle serves the Metro Expo Rail line, the Baldwin Hills Scenic Overlook and the Kenneth Hahn State Recreation Area.
Register by Thursday, July 21 for this in-person gathering.
What to Bring: Feel free to bring along Frisbees and lawn games. Members of the Class of 2026 and their family members do not need to bring anything, let us treat you! Co-hosts, current students, alumni, and their families, please sign up for individually-packaged food items to bring.
In Case of Rain: Our location has a covered area, so the event will be held rain or shine.
Unable to join us in Los Angeles on this date? Check out our list of other in-person locations across the US as well as virtual gatherings.
Questions? Contact Alumni Relations via email, at 800-729-2586, or 507-222-5204