Apr
13
Deborah Appleman Presents "Literature and the New Culture Wars"
Thu, April 13, 2023 • 7:00pm - 8:00pm (1h) • SubText Bookstore 6 W 5th St, St. Paul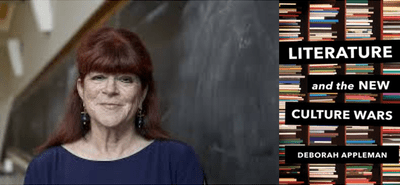 Join us in the store as Deborah Appleman reads from her study of "cancelation," Literature and the New Culture Wars. Appleman will be in conversation with Arnab Chakladar of Carleton College, with a Q&A and booksigning to follow.
Our current "culture wars" have reshaped the politics of secondary literature instruction. Due to a variety of challenges from both the left and the right—to language or subject matter, to potentially triggering content, or to authors who have been canceled—school reading lists are rapidly shrinking. For many teachers, choosing which books to include in their  curriculum has become an agonizing task with political, professional, and ethical dimensions. In Literature and the New Culture Wars, Deborah Appleman calls for a reacknowledgment of the intellectual and affective work that literature can do, and offers ways to continue to teach troubling texts without doing harm. Rather than banishing challenged texts from our classrooms, she writes, we should be confronting and teaching the controversies they invoke. Her book is a timely and eloquent argument for a reasoned approach to determining what literature still deserves to be read and taught and discussed.
Deborah Appleman is the Hollis L. Caswell Professor and chair of Educational Studies at Carleton College. She also contributes to Carleton's American Studies program. Professor Appleman's recent research has focused on teaching college-level language and literature courses to the incarcerated.
For a sneak-peek, you can read an excerpt from Appleman's book at LitHub.
from Educational Studies