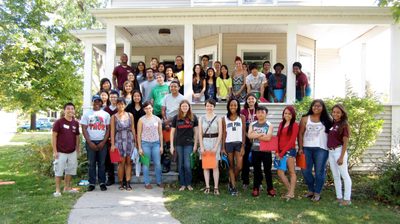 On November 8, Carleton launched the First Generation @ Carleton website, bringing visibility to faculty, staff, and students who identify as first generation scholars. This resource serves as an introduction of fellow first-gen scholars to the 13% of incoming Carleton students who self-identify as the first generation of their families to attend college.
November 8 was selected as the date for the annual National First-Generation College Celebration to honor the anniversary of the signing of the Higher Education Act of 1965. The HEA emerged from President Lyndon B. Johnson's War on Poverty. Much like other hallmark legislation of that era, such as the Civil Rights Act of 1964 and the Voting Rights act of 1965, HEA was intended to help level the playing field that for too long had been weighed against Americans from minority and low-income backgrounds.

Visit First Generation @ Carleton to see a a directory of faculty and staff who identify as first generation and to learn more about how the college supports first-generation students.