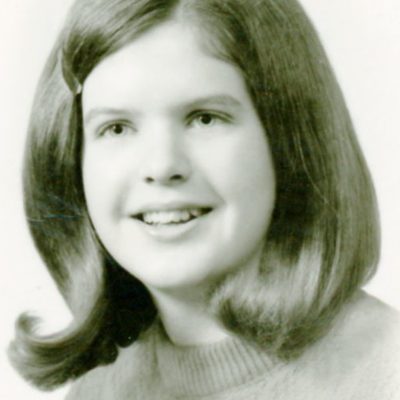 Class: 1972
Major: History
Residence: Minneapolis, MN
Deceased: August 15, 2021
Alumni survivors: Mr. Matthew D. Cleary '90 (Nephew), Ms. Kristin C. Nierengarten '08 (Child)
Nierengarten, Susan Jean (Ulstrom) 69, of Minneapolis died August 15, 2021, of a cerebral hemorrhage. Born to Mary Janet (McGrath) Ulstrom and Dr. Robert A. Ulstrom in 1951, Susan was raised in Golden Valley, MN, and Los Angeles, CA. She graduated from Carleton College in 1972 and William Mitchell College of Law in 1977. In August 1976, Susan married Hugh T. Nierengarten, whom she met in law school, becoming his beloved "Bicentennial Bride." She and Hugh were not only life partners, raising two daughters and undertaking countless other adventures together, but professional partners, practicing law together at Nierengarten & Hippert Ltd. in New Ulm from 1977 until retiring in 2014.
During her time in New Ulm, Susan was an active member of the community, which included serving as Assistant City Attorney for 35 years, founding her first of multiple book clubs, and serving 12 years on the school board. Upon retiring to Minneapolis, she dedicated herself to her new community, serving as a volunteer guardian ad litem in the Fourth Judicial District Juvenile Court and as president of the homeowners' association board at her condominium. Throughout her life, Susan loved to travel, whether on two-week road trips with her family (hitting all 50 states!), exploring the world with Hugh, going on cabin retreats with her closest friends, or spending time at The Mountain near Rocky Mountain National Park. Susan was also an avid reader, kindling most of her best friendships through books, always having a book review or recommendation at the ready, and flying to book-related destinations with The Book Club. Most recently, Susan relished in her favorite role as "Moogie" to her grandchildren, doting on them in a way that can never be replicated or replaced. An ardent feminist, one of her great regrets was not living long enough to see a female president, but she was thrilled to at least see a female vice president.
In addition to Hugh Nierengarten, her husband of 45 years, Susan is survived by her daughters and sons-in-law Julia Nierengarten and Jason Buckman and Kristin Nierengarten and Thomas Harwood; grandchildren Eris, Mara, Cosmo, and grandbaby #4 expected in 2022; sisters Jane (Paul) Brissett and Cynthia (Steven) Bulwicz; Hugh's siblings and their spouses; her nieces, nephews, cousins, and their children; and many friends.
In lieu of a public service, Susan's family will gather to spread her ashes in the mountains of Colorado at a future date. Memorials may be sent to Planned Parenthood North Central States, the ACLU of Minnesota, or the National Park Foundation.
Susan's family would like to extend a special thanks to the health care professionals at Abbott Northwestern Hospital who treated Susan with great care, respect, and dignity during her final days.
---
At Carleton, Susie and I Iived on 4th Watson as freshmen and shared a Nourse quad as sophomores. She was a history major. She met her husband Hugh in law school and they had a law practice in New Ulm, where they were very active in the community. They moved to Minneapolis after retirement. We had a monthly lunch and book club where we actually talked about books (and our grandkids).
-Pam Johnson '72