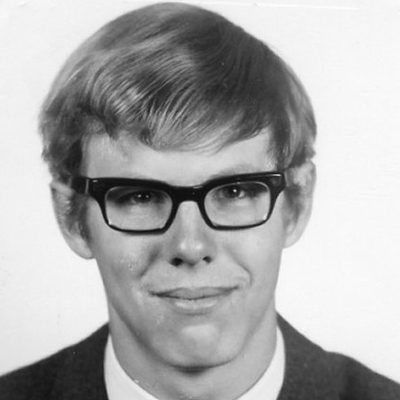 Class: 1973
Major: Biology
Deceased: June 13, 2003
Alumni survivors: Ms. Elizabeth R. Eisenstadt '66 (Cousin), Mrs. Anne P. Webb '66 (Sibling), Ms. Laure Pengelly Drake '77 (Sibling), Ms. Kim T. Pengelly '83 (Sibling)
Deceased 06/13/2003
David Leslie Pengelly, 52, of Missoula died Friday June 13, 2003 as a result of a climbing accident on Mount Reynolds in the North Cascades, Wash.
He was born in Coeur d'Alene, Idaho, on January 23, 1951 to Mary and Les Pengelly. The family moved to Missoula in 1954. Dave attended St. Anthony's and Paxson grade schools and Hellgate High School in Missoula. He earned a B.A. in biology at Carleton College in Northfield, Minn., where he ran track and cross country and played Rottblatt. He studied plant pathology and earned an M.A. degree in water resource management at the University of Wisconsin-Madison.
Dave worked in Helena for Hydrometrics and the state Department of Natural Resources and Conservation as a water rights hearing officer. He moved to Missoula, where he ran the water rights office for the department. He graduated from the University of Montana Law School in 1987; was a partner with Knight, Maclay and Masar; and then went into practice for himself, specializing in water law. As a respected water rights lawyer, Dave will be remembered as fair, honest, and hardworking.
Dave was an avid outdoorsman who loved to ski, cycle, run, raft, and hunt. His true passion lay in the mountains, where he became a proficient rock climber and ice climber. Dave climbed dozens of peaks in the Rocky Mountains of Canada, the western United States and Alaska. His mountaineering friends remember him as a dependable, enthusiastic comrade who was often hard to keep pace with. His encouragement and assistance usually came with a dose of acerbic wit.
Dave was involved in the Rocky Mountaineers, Big Brothers Big Sisters of Missoula and the Five Valleys Land Trust. He was known to give free legal advice to people in need. Dave donated to the charities and causes he believed in without seeking recognition. His generosity will be missed by many who benefited from his kindness.
David is survived by his wife of 29 years, Vicki Pengelly, and his mother, Mary Pengelly, both of Missoula; his siblings, Mary Lou Pengelly of Bethesda, Md., Anne Webb (Dave) of Honolulu, Laure Pengelly Drake (Richard) of Missoula, Mark Pengelly (Debra) of Frenchtown and Kim Pengelly (Greg Banks) of Portland, Ore.; his father- and mother- in-law, Victor and Pat Fiala; sisters-in-law Deb Powell (Bob), Wendy Carney (Brian) and Shelly Terry (Rick); brother-in-law Lee Llewellyn; as well as numerous aunts, uncles, cousins, nieces and nephews.
His father, Les Pengelly, preceded Dave in death.