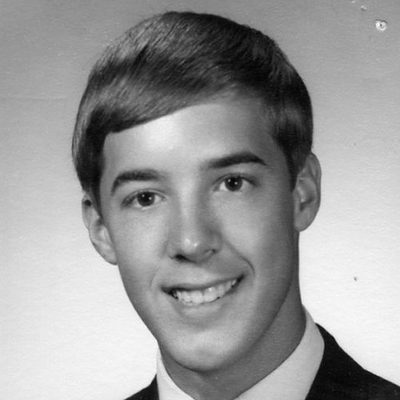 Class: 1973
Major: Philosophy
Deceased: September 19, 2008
Alumni survivors: Mr. Richard R. Kracum '76 P07 (Sibling), Mr. John B. Kracum '07 (Nephew), Mr. Matthew D. Kracum '10 (Child)
Deceased 09/19/2008
David Robertson Kracum, age 57 of Chanhassen, Minn., died on September 19, 2008. He is survived by children, Matthew ('10) and Lindsey; brother, Richard Kracum ('76); sister, Karen Lindsay; nephews, John ('07) and James Kracum. Dave was a loving and devoted father, and a great friend of many. We will all miss Dave dearly. He made us smile.
---
Memorial submitted by Michael Lindberg '73
IN MEMORIAM — DAVID ROBERTSON KRACUM
David Kracum was born on September 8, 1951 and died on September 19, 2008 at his home in Chanhassen at the age of 57.
David's father, a Faegre & Benson lawyer, died suddenly when David was a small boy, leaving his mother to raise two young boys. After his mother remarried, the family moved from south Minneapolis to his stepfather's home in Edina. David graduated as a top student from Edina High School in 1969. He attended Carleton College and received a degree in philosophy in 1973, magna cum laude and Phi Beta Kappa. His musical skills landed him the lead in a college production of Guys and Dolls.
He attended the University of Minnesota Law School and received his law degree in 1976.
David spent many years as an associate and partner with Messerli & Kramer in Minneapolis, handling civil litigation. Seeking an alternative to the frictions of litigation, he joined Wells Fargo bank as a trust officer. After metamorphosing from civil litigator to trusts-and-estates lawyer, he set up his own trusts and estates practice in Edina, where he practiced until his untimely death. He greatly enjoyed his clients and the non-adversarial nature of his solo practice.
He is survived by two adult children, Lindsey of Los Angeles, and Matthew of Northfield, his former wife, Susan Kracum of Eden Prairie, and his brother Richard '76 of Chicago.
David was a man of many facets. He was a fine skier, tennis player, golfer, hunter, and fisherman. He was a talented singer and a deeply knowledgeable connoisseur of classical, jazz, and popular music. He was cultured, well-traveled, erudite, and witty. He had a hilarious comic sensibility, which made him a ceaselessly charming companion to his friends and to his family. His many friends miss him dearly.