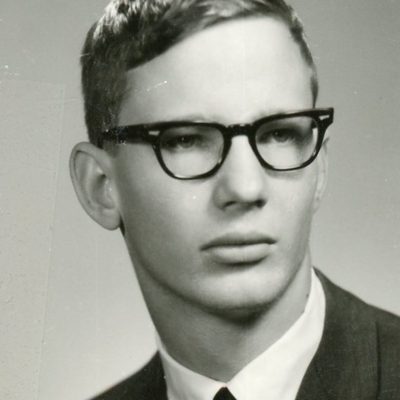 Class: 1970
Residence: Northampton, MA
Deceased: May 6, 2019
Alumni survivors: Ms. Mary Ann Clawson '68 W70 (Widow/Widower)
AMHERST — Over the past four decades, wherever there was a battle being fought over the future of public education, it was a safe bet that Dan Clawson would be right there on the front lines.
Those struggles continue, but they will be missing the presence of Clawson, a labor activist and University of Massachusetts sociology professor who died last Monday of a heart attack at the age of 70.
"Breakfast is really hard now because we would always be reading the papers and saying, 'Oh you should read this one,'" said Clawson's wife, Wesleyan University sociology professor Mary Ann Clawson.
She described her husband as her daily conversation partner and a caring father who worked hard to ensure that the work of raising their daughter, Laura, was divided equally between them both as parents.
Dan Clawson was a well-known figure in public higher education advocacy and the labor movement. In the early 2000s, he served as president of the Massachusetts Society of Professors — an affiliate of the Massachusetts Teachers Association, or MTA, which represents faculty and librarians at UMass Amherst. Clawson recently held positions on the MTA executive committee and educational policy and practice committee.
Clawson was also one of the founders of the Public Higher Education Network of Massachusetts, or PHENOM, a broad coalition that has played a key role in advocating for increased higher education funding in the state.
As a scholar who arrived at UMass in 1978, Clawson was the author of many books on topics ranging from corporate money and political influence to organized labor. His 2014 book co-authored with Naomi Gerstel, "Unequal Time: Gender, Class, and Family in Employment Schedules," was a study of four health care occupations and how gender and class affected those employees' abilities to determine their work schedules and time at home.
Those close to Clawson say he avoided the spotlight, preferring grassroots organizing behind the scenes. And that was where he was most effective, they said.
"He was not a grandstander in the least," said UMass architecture professor Max Page, who considered Clawson a longtime friend and mentor. "He was just happy to build movements."
Page, the current vice president of MTA, looked back fondly on Clawson's spirit of protest, from being arrested at Occupy Wall Street at age 60 to organizing a protest against Andrew Card — the White House chief of staff under President George W. Bush — when UMass awarded him an honorary degree in 2007.
"He was just an absolutely central figure for 40 years in a whole range of causes in western Mass," Page said.
'Always optimistic'
Much of Clawson's organizing was within the MTA, which he took in a more participatory direction that favored rank-and-file empowerment and social justice activism. He was a leader within Educators for a Democratic Union, a progressive caucus within the MTA that sought to accomplish those goals.
Clawson was the campaign manager for Barabara Madeloni, a former Northampton High School teacher and UMass Amherst faculty member who won a surprise victory to become MTA president in 2014 on the Educators for a Democratic Union platform. Four years later, he helped elect Page and current President Merrie Najimy, solidifying the caucus's influence on the union.
"He acted so much from a real conviction that people together can make the world better, and that requires a caring about people, and it requires a trust in people and a vision of a better world," Madeloni said. "And he carried it with him and lived it every day."
That conviction and commitment touched many who took to social media to express their sadness at the loss of Clawson. Hampshire professor Margaret Cerullo recalled a recent training Madeloni and Clawson organized at Hampshire College at the invitation of the college's employees.
"When the crisis began at Hampshire this January, he was first in line to offer support — concrete material support, in the form of organizing workshops — that spurred the formation of a grand coalition of staff, students, faculty, alums and parents, that has carried our struggle forward," Cerullo wrote on Facebook on Tuesday.
Recently, Mary Ann Clawson said, her husband had been working full-time at both his jobs, teaching a full class load and "driving to Boston incessantly for meetings and things" with the MTA. Clawson had planned to retire later this month and had an angioplasty procedure scheduled, she added.
Days before he died, Clawson was pushing for progressive candidates and positions at the MTA's annual meeting. Among his last victories: the passage of a call from the MTA for a national teachers strike in support of the Green New Deal.
Despite concern about the present political moment, Mary Ann Clawson said that her husband drew hope from recent union activism in the United States — particularly in light of teacher strikes from West Virginia to Denver, Los Angeles and Oakland.
Mary Ann Clawson said that the title of his 2003 book, "The Next Upsurge: Labor and the New Social Movements," revealed his outlook on life.
"Dan was always optimistic," she said. As for that upsurge, she added, "it didn't happen then, though maybe it's happening now."
Clawson is survived by Mary Ann Clawson, his daughter Laura Clawson, son-in-law Arjun Jaikumar, grandson Danny Jaikumar and brother Patrick Clawson.
""""""""""""""""""""""""""""""""""""""""""""""""""""""""""""""""""""""`
Dan and I were friends in high school. He left Carleton after sophomore or junior year to get married to Mary Ann Ring. I think he graduated from Washington University.
Don Camp '70