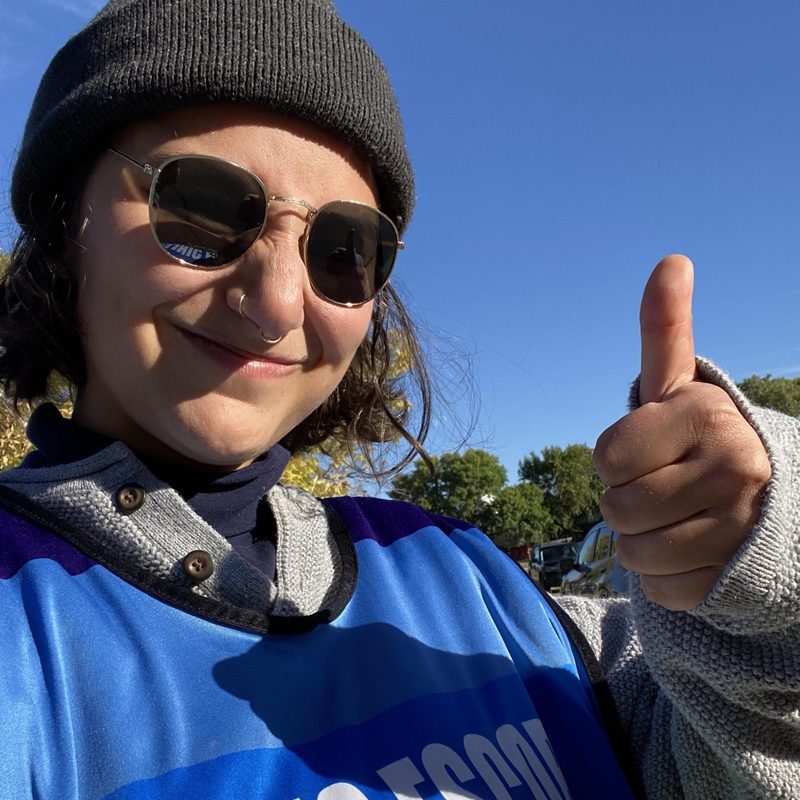 With creativity and commitment, Bex Klafter '18 sows a multitude of good works for both people and the planet. After graduation, Klafter began working for Redeemer Center for Life, a nonprofit organization advocating for racial justice and equity through housing, workforce development, and youth leadership, rising to be the Director of Donor Development. Now a Development Officer for Lutheran Social Services of MN, Klafter enjoys community-centric fundraising as a way of building relationships and distributing wealth. She is dedicated to abortion access; she served on the Board of Pro-Choice Minnesota, volunteers as an abortion clinic escort to help patients safely access healthcare, and fundraises for Our Justice, MN's only abortion fund.
During their time at Carleton, Klafter majored in Environmental Studies (ENTS) and dedicated herself to environmental and food justice in and outside of the classroom. She worked in the Sustainability Office, volunteered with Food Recovery Network, and led FoodTruth. Additionally, Klafter lived in CANOE House for three years, discovering her love for intentional, communal living. Since graduating, Klafter has continued to live in co-op style houses in Minneapolis. Klafter loves to welcome folks into their space by hosting Shabbat dinners, silly-themed parties, and community events.
In addition to building community in their home, Klafter also co-runs The Modern Yentas. Natalie Jacobson '18 and Klafter started a matchmaking service as The Campus Yentas at Carleton, and it has since grown to serve the Twin Cities queer community with speed dating events and personalized matchmaking services.
Quick to laugh at her own jokes, Klafter brings passion and light into every aspect of her life. Klafter wholeheartedly embodies the spirit of Carleton.