This event took place on January 27, 2022
Thanks to Carleton faculty member and world-class performer Gao Hong, Chinese music has been a notable presence on campus for decades. Two prize-winning members of Carleton's Chinese Music Ensemble join her for a conversation on the vibrant role of Chinese music in the community and their own lives.
About the speakers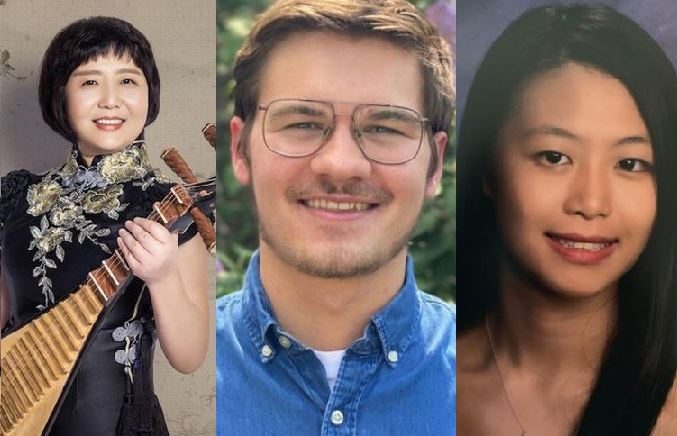 Performer, composer, and teacher Gao Hong is one of the world's masters of the pipa (Chinese lute). Her solo and group concerts have been featured at major festivals and venues worldwide, and her recordings have won many prizes, including the Global Music Awards gold medal in both 2020 and 2021. She is the recipient of dozens of honors: five McKnight Performing Artist fellowships, eighteen grants from the Minnesota State Arts Board, six commissions and grants from the Jerome Foundation, and many more. She has taught at Carleton since 2001 and is the director of the Chinese Music Ensemble.
In 2018, Gus Holley '20 became the first foreigner to win the gold medal at the Liao Yuan Cup International Pipa Competition in China. He also won first place at the 2020 Chinese Bridge Global Music International Music Talent Video Competition for his performance on the pipa. A double major in music and Asian studies at Carleton with a minor in Chinese, Holley is now a doctoral student in ethnomusicology at UC-Berkeley.
Shannon Liu '23 won a gold medal this summer at the prestigious international Songting Longyin Chinese Wind and Dizi Competition, as well as second place at the 2020 Chinese Bridge Global Music International Music Talent Video Competition for her performance on the dizi (Chinese flute). At Carleton, in addition to majoring in cognitive science, minoring in music performance, and conducting research in the campus Primate Cognition Lab, Liu is also one of the winners of this year's Carleton Start-Up Fellowship Competition for her work on a web app that improves participation in small group online discussions.