Apr
13
Carleton Connects: Andrew Kim '92 and giant puppets
Thu, April 13, 2023 • 10:00am - 11:00am (1h)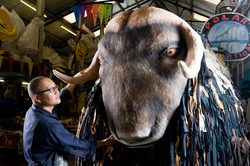 For more than a decade, Andrew Kim '92 has led Thingumajig Theatre in its creation and worldwide performance of innovative and interactive giant puppet street acts. Join Andrew for a conversation about creativity, community engagement, and his artistic career.
The webinar begins at 10:00 a.m. Central on Thursday, April 13. Register via Zoom.
About the speaker
Since graduating from Carleton in 1992, Andrew Kim has been working as a puppet maker and performer. He started with Minneapolis' In the Heart of the Beast Theatre, where through stage productions and their annual MayDay Parade he learned about giant puppets, masks, stilt-walking, and the power of community spectacles. He worked with other companies in the USA, including Bread & Puppet Theater and Seattle Summer Solstice Parade, and trained in Bali and Korea before moving to England in 2006. He and his wife Kathy started Thingumajig Theatre, which creates giant puppet street acts and commissions. He was the founder and the former artistic director of Handmade Parade. More recently, he has been focusing on training, offering giant puppet and lantern puppet residencies to artists and students around the world, especially to emerging BIPoC artists. His puppets have been seen through the United Kingdom, the United States, and 19 other countries, as well as on several television programs and a major Disney film.