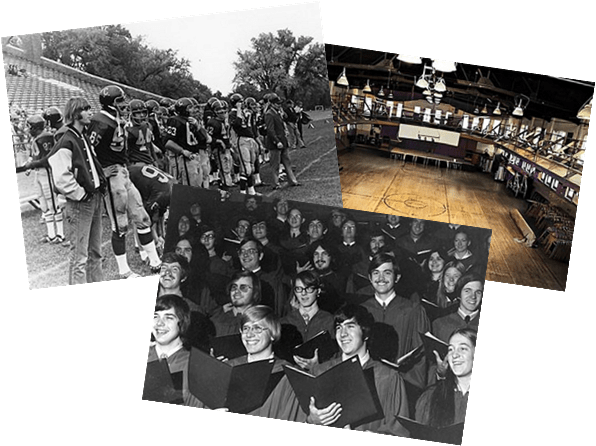 We told you about the Class of '74 Flickr photo site titled "Carleton Memories" in our first Newsletter, but since then we have added over 200 new images to the galleries after scouring the Carleton Archives, so we thought it was a good time to invite you, again, to explore this resource. There are now over 700 images in the "Carleton Memories" photo stream, but to make browsing easier, we have created several separate albums to organize photos into topics such as sports, music, theater, student life, and graduation. We have also created a "Farewells" album to honor deceased classmates, a "Do You Remember" album with some whimsical memories of our Carleton years, and "Colorized Algol" and "Colorized Zoobook" albums to take you down memory lane.
Many classmates have already explored the galleries, as evidenced by the over 230,000 total views since the site was created, but here are some things that you might like to know about the "Carleton Memories" site:
No Log-in Required: These are public galleries that do not require registrations or any social media accounts.
Additional Information: If you click on any image in the collection, you can see additional information, read comments that other classmates have written and learn how many times the image has been viewed.
Download Image Files: When you click to view an individual image, you will see a download icon in the lower right corner. Flickr allows you to download images in the original size, but you can also choose other options and formats for specific purposes.
Write Your Own Comments: We encourage classmates to help us to identify people depicted in the photos or add additional information about the events shown in the pictures. Just click on an image, add your comments, and click the "Comment" button.
Please Note: If you previously shared any of the photos on our Flickr site but proper attribution is not noted in the comments section for those photos, we welcome you to enter that information so that proper credit is given. In addition to your name, you might also include details about the date the photo was taken and the location or event depicted. We are grateful that you have shared your photos with classmates.
We will continue to add photos to the "Carleton Memories" in the months before our reunion next June, so bookmark the site and come back from time to time to watch the galleries grow. It is a great way to step back in time and remember the people and the events that made our Carleton years so memorable.
---
Do You Have Photos You Would Like to Share?
If you have any photos of people or events that you are willing to share, just send them to the email address below and we will add them to the "Carleton Memories" Flickr site. If you have photos or slides that have not yet been digitized, we can do that as well. Send a message to the same e-mail address and we will direct you to a person who can do this for you. 50threunion@carleton.edu