Gridley Hall was the fourth Carleton building. It was built as Ladies Hall in 1882 to house female students. A. M. Radcliff of St. Paul was the architect. It was named after benefactor Eber Gridley in 1890, when he paid off $40,000 of the college's debt.
The three story building was a huge project in the context of Victorian era Northfield. It housed over 100 students as well as offices, a kitchen, a dining room, a hospital department, parlors, and "society rooms." A visiting committee from Grinnell College wrote in 1884 that there were "8 or 10 water closets with numerous bathing rooms" on each floor.
Destruction
By the time it was torn down to make way for the Music and Drama Center (the Concert Hall and the Arena Theater) in 1967, it was antiquated and unsafe, though charming to some of its residents. Other residences available to women at the time were Nourse, Myers, Evans and French House. The modern Watson Hall was constructed at around the same time to increase available dorm space.
The move to demolish the dorm was hotly debated. Before the demolition began, furniture in the building was auctioned off, including eight-dollar desks and two-dollar chairs. When its cornerstone was unearthed, it was found to contain newspapers and four vials of tree seeds and grain samples.
---
Gridley Today?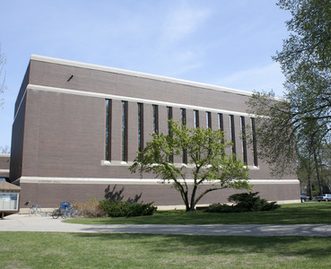 Gridley was replaced with the Music and Drama Center, sometimes abbreviated M&D, consists of two buildings, the Concert Hall and Arena Theater above ground, but it was designed and built as one unit with a common basement and foundation. It was dedicated in 1971 in conjunction with the inauguration of President Swearer.
Below ground, the two buildings share a common foyer. Also downstairs are a large rehearsal room, practice rooms, an art gallery, a dance studio, an instrument library, dressing rooms for the theater, and prop storage. Because the two above-ground structures are diagonal to each other and not in a direct line, many of the downstairs rooms have odd 45 degree and 135 degree angles…including the urinals in the men's room!